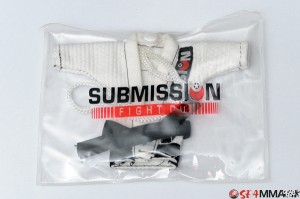 Received this cute little thing in the mail the other day, thought I'd do a quick write-up on it!
Produced by Submission FC as a mini-gi to hang around, it was created to directly rival against boxers and MMA fighters who have their own miniaturised version of gloves and whatnot. The material seems like a single weave with a rip stop lapel, looking pretty much like the real thing, except for the direction of the weave. There's a black belt stitched on at the back, while the front is free for you to tie your preferred knots.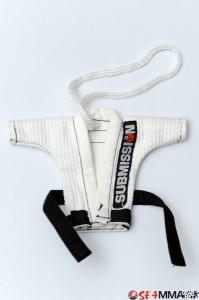 Unfortunately for me, I'm terrible with knots and can't seem to get the nice one that Submission's gotten on their product page. The mini-gi even comes with a black contrast stitch! Very nice and a perfect accessory to hang up in your car or own your bag. Since I don't drive, it's attached to my gear bag. In that respect, I'd prefer a key-chain style metal ring for easier clip on and removal, but the string works as well.
If this is up your alley, you can grab one off Submission FC for USD $14.99 (SGD $18).