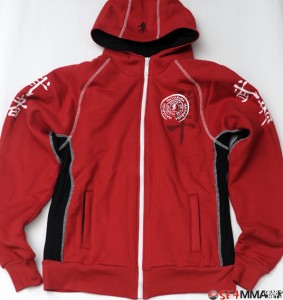 Introduction
If you're a fan of Hayabusa, you'll definitely wanna pick up one of their sweet looking hoodies. Besides their Uwagi jacket previously reviewed, they also have a new series of cotton fleece hoodies! How do these check out?
Official Specs:
Crafted with premium quality, 100% cotton fleece
Solid, full length YKK Hayabusa-branded zipper
Dual vented zippered side pockets
Stretch gussets under arms and side panels
High quality print and hood embroidery
Keeps you warm and fashionable
Aesthetics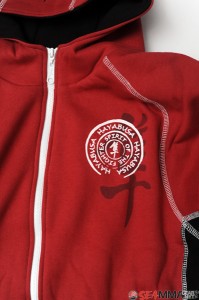 The Warrior hoodie is one of three in the series, each having a different colourway and design motive. While the Warrior hoodie is red, the other two are gray and black/red respectively. Despite my initial temptation to choose the black/red one for its embroidered designs (unlikely to fade compared to the screen print versions), the colourway was a little reminiscent of the Uwagi and Haburi varieties, so I went for the red one to get a little variety. Plus it says Busha (warrior) in kanji!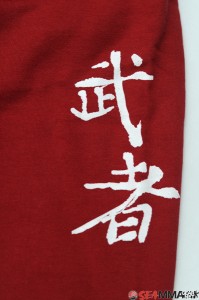 Anyway, the hoodie is predominantly red, accented by some white stitching and prints. On the left side of the chest are some words that say 'Spirit of the Fighter' and the Hayabusa kanji. Running down the shoulders on both sides are the Busha kanji, and the back has the characteristic Hayabusa falcon, as well as a chunk of text describing the Peregrine Falcon. The top of the hood has a little Hayabusa embroidery in black, the only embroidery on the entire hoodie.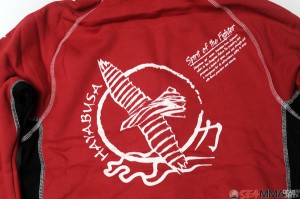 Overall, a nice looking hoodie, if you don't mind the not-so-subtle 'I am a warrior' message the hoodie conveys.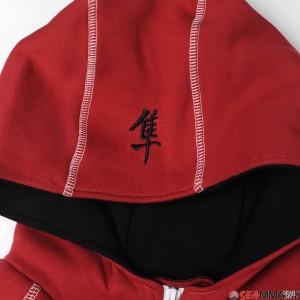 Form & Fit
In recent times, Hayabusa's sizing seems to have gotten a better fit, and the hoodie is no different. The hoodie ranges from S, M, L, XL to XXL, and this time around, the S fits just right on me. In fact, those who want a slightly looser fit might want to take a look at the size chart and consider the measurements.
While the hoodie fits just right around the shoulders and chest, I find the hood itself could be slightly more loose fitting. Sleeve length is good, I'm able to hide my hands inside the sleeves if I want to, while a wide band of elastic at the cuffs prevent it from shifting around much. There's also stretch gussets – elastic material similar to the cuffs – that help to keep the hoodie fitting without restricting motion.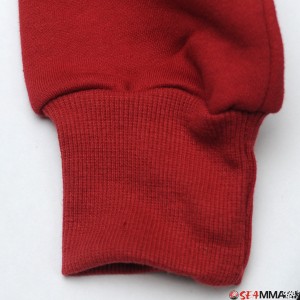 The cotton fleece material on the inside of the hoodie feels soft and comfortable, although you might get some material on your arms the first few times you wear it.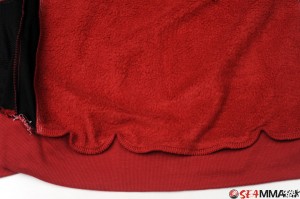 Functionality
The hoodie is fairly thick, and is great for wearing on a cool day or in a freezing air-conditioned room. Not so great for walking around sunny Singapore, but that's what my other hoodies are for. That said, it's not the thickest out there, as one of my older Venum hoodies is still thicker than this. It also folds up slightly thicker and takes up a fair bit of bag space, for those who like to pack their hoodies into their bags.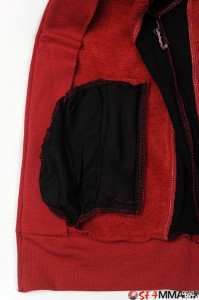 It also two side pockets which are vented. Why vented, I have no idea, given the pocket is inside the hoodie. They're also not very deep – I can barely fit my whole open palm in. However, I do like that the pockets are zippered, so I don't have to worry about items falling out when moving about.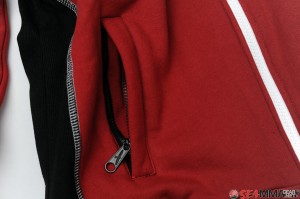 Stitching and workmanship on this looks pretty good, nothing seems out of place and no loose threads.
Affordability
The Hayabusa Warrior hoodie and the rest in this series go for USD $79.95 (SGD $98) at Budovideos. Compared to other MMA inspired hoodies, it does fall at the higher end of the price range. However, the quality is definitely good, so it might still be worth considering.
Conclusion
Hayabusa's series of hoodies are definitely a good-looking bunch that delivers comfort, quality and style. It might be just a little more pricey, but not that out of reach.
Disclaimer
All comments in the review are my own personal opinion. Prices provided in brackets are merely for reference and are based on exchange rates at the time of writing.
If you like this review and found it helpful, please post a comment or let the company or retailer know too. Should you decide to purchase them online, you might want to consult the online buying guide for advice.