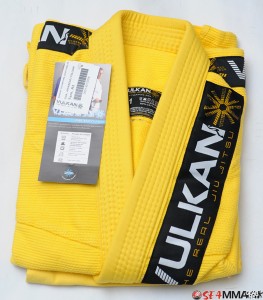 Introduction
Aye, what's that I spy? It's bright, it's bold, it's a Vulkan Pro Light gi in a blinding colour! Vulkan was another one of the 'classic' gi brands that I was considering back when I first started out, and once again I have a chance to review it courtesy of Martial Arts Supplies.
Official Specs:
Honey Comb Weaved Fabric
Rubber Lapel
Superlight
Fast drying
100% pre-shrunk
Made in Brazil
Aesthetics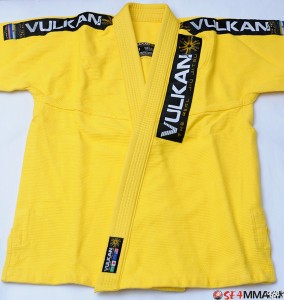 Yellow? For real? This gi sure caught many eyes and I had people asking me why in the world would I consciously pick such a colour. Because I can! And because I'm secretly building a rainbow collection of coloured gis to eventually display and make you non-believers jealous!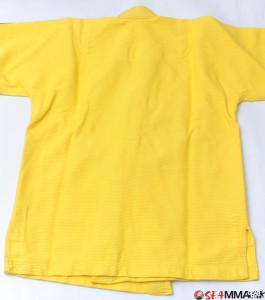 Jokes aside, Vulkan sure has a variety of odd colours beyond the traditional white, blue and black, including yellow, red and a white/blue combination. This does provide options for those who like to stand out of the crowd. Beyond the coloured dyes though, the Vulkan design is pretty much vanilla, a potential advantage if you like more plain looking gis to customise with patches.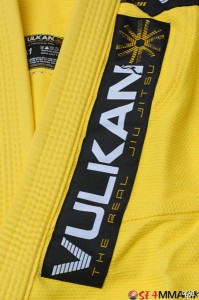 The Pro Light has three Vulkan patches on the gi top, one running down the chest and two on the shoulders. The chest patch is easily removed as it doesn't run under the collar, but the shoulder patches do. They might still be removable if it doesn't run too deep, but that depends on how adventurous you are. The back is completely plain, and there are no branded tapings on the cuffs or skirt that many newer gis feature.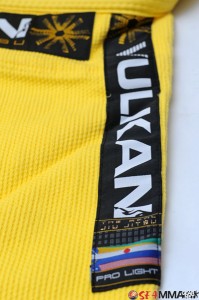 The pants features on Vulkan patch running down the right side, and this can be removed easily as well. Beyond that, the pants is pretty much empty.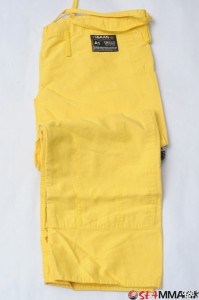 Overall, the gi is quite traditional and plain looking, and if you want something even more basic, you can opt for the classic white. The fact that it has no embroideries at all will be appealing to the customisation aficionados.
Form & Fit
Based on the size chart, I fall right into the A1 range with my height of 169cm and weight of 66kg (Yes, I've grown fatter.) Here's the size chart with metric conversions for easy reference.
Despite being right smack in the middle of the height range for A1 though, the gi felt a little short on both the sleeves and pants out of the bag. It was also somewhat baggy on me, especially when compared to other slim-fitting gis like the Fuji summer.  Definitely a better fit for the stockier guys.
True to the pre-shrunk spec though, the gi didn't shrink one bit after several cold washes. Here are the measurements.
Gi length (collar to skirt)
Functionality
The gi may be yellow, but it doesn't turn you into Flash. Despite hoping for superpowers to smash the guys that taunted me for the colour, I remained, well, humbled. That said, while it doesn't grant you actual powers, you can still draw spiritual strength from the forefathers of BJJ since this is made in Brazil.
Like the Keiko Raca gi, there's something the two Brazilian gis share in common that I can't quite put my finger on, but instantly notice when wearing. I think it's to do with the cut and the cotton that somehow feels softer and smoother.
The Honey comb weave looks similar to a Pearl weave to me, and for most part wears and feels like one too, except that it is somewhat softer and more comfortable.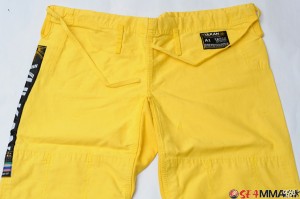 The pants is a thin cotton twill, very similar to the Keiko Raca and maybe just slightly lighter weight. It is slightly baggy but fairly comfortable, and comes with knee reinforcements that run about three quarters down the pants. Like the 'classic' gis, you get a flat drawstring and two loops that could do with a revamp.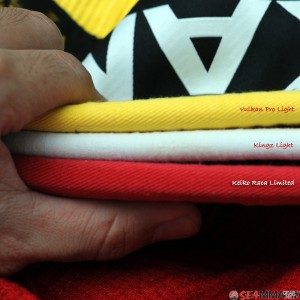 Collar-wise, it's nowhere as beefy as the Keiko Raca and is closer to the Kingz Light in both thickness and softness.
The typical gi reinforcements are in place. and the gi itself feels well-constructed. The gi pants though, has a pretty flimsy feel to the leg cuff, so that's one spot to look out for.
Affordability
The white Vulkan Pro Light costs USD $169.99 (SGD $214), while the blue and black ones are USD $10 (SGD $13) more on Martial Arts Supplies. The red and yellow ones are USD $20 above the basic white. With the broad range of options available these days, it's not too hard to find a cheaper gi. However, if you like something classic, soft and comfortable, the Pro Light can still deliver at a slight premium.
Alternatively, Vulkan has the lower priced Ultra Light at USD $134.99 (SGD $170)
Conclusion
The Vulkan Pro Light is a classic lightweight BJJ gi without the frills of the newer, fancy gis. If you're looking for something basic with a touch of flash (read: non-standard colours), this might just be your ticket.
Disclaimer
All comments in the review are my own personal opinion. Prices provided in brackets are merely for reference and are based on exchange rates at the time of writing.
If you like this review and found it helpful, please post a comment or let the company or retailer know too. Should you decide to purchase them online, you might want to consult the online buying guide for advice.