Introduction
Hayabusa updated their fight shorts offering not too long ago with the new Chikara shorts and I had been itching to try one out. Finally, I managed to get my hands on a pair, along with the Kusari Training shirt! Curious to see how these stack up? Read on to find out!
Official Specs:
Hayabusa Chikara Performance Shorts
Innovative tie system with indestructable webbing for a distinct customized fit
Features the exclusive Mechanical PolyDirectional™ stretch fabric
High tensile strength stretch panel and side split seams for unrestricted range of motion
Contains Hayabusa's Guardlock™ inner grip waistband system
Reinforced T3 stitching for ultimate strength and durability
Permanent fiber fused designs
Kusari Training Shirt
First training shirt to successfully combine anti-rip properties with ultra soft comfort
Japanese design
Unbelievable strength & comfort
Tough, lightweight and breathable fabric
Designed for high level training
Performance hybrid collar
Sleek integrated mouthguard pocket
Aesthetics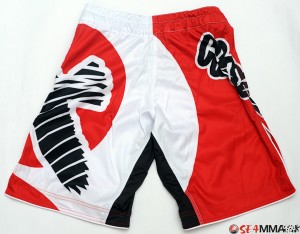 The Chikara shorts comes in three colours, red, blue or black, each sporting a clean white base to match the colours. The Hayabusa falcon logo is pumped up big on the left side of the shorts, while the Hayabusa word logo runs down the right. It's an interesting departure from the more tribal inspired Mizuchi series, or the more plain looking Kyoudo and Shiai series.
My red shorts comes in a fairly bright red, and the material itself is somewhat reflective, making for an eye-catching pair of shorts! You might want to consider a black pair if you're on the shy side. I like how the red circle forms behind the falcon, giving it a Japanese-esque look with the similarities to the Japanese flag.
As for the Kusari shirt, it's available in either a black base with white accents or a white base with red accents. I should have gotten a white one to match my shorts, but oh well. The shirt itself is pretty smart looking, helped no doubt by the collar. It makes a great all-purpose shirt that can be worn out even on non-training days.
There's a falcon logo on the front, as well as a smaller, uobtrusive Hayabusa word logo on the front right shoulder and the Kanji on the back right shoulder. This is accented by a faint motif present both in the front and back of the shirt. Overall, a good looking piece that doesn't scream MMA.
Both are sublimated print of course, and look just as fresh after multiple washes.
Form & Fit
Hayabusa shorts typically run from size 30-38, running in even numbers like most fight shorts. While I'm a size 28, Hayabusa's size 30 shorts generally fit well on me thanks to their well designed waist tightening system.
In fact, the Chikara shorts has gotten an upgrade from the previous series, featuring a drawstring system that is attached to an internal flat piece of fabric, or an 'indestructible webbing' as Hayabusa would call it. The webbing allows the pants to be tightened much better and more easily with the drawstring due to the way it loops about the webbing. It also prevents the discomfort that might come from over tightening a thin piece of drawstring.
Beside the new feature, the previous Guardlock system, a sort of rubber thread that runs inside the waistband to provide grip, as well as the elasticated waistband and the usual velcro strap system are all present. The whole setup offers me by far the best and most comfortable fit yet, making these a new personal favourite.
As for the Kusari shirt, sizes run from S to XXL, offering a good range for the bigger guys. As usual, I default to the smallest size, S. From previous experience, I was expecting the shirt to be a little large for me, but it turned out fitting pretty well. It's a little loose around the chest, but since this is not compression wear, it's no big deal really. Everything else like the armpits and sleeves are spot on. The sleeve cuff is a little tight though, so those with big guns might find these a little restrictive initially until it loosens up with wear.
Functionality
One of the first things I noticed when I put on the Chikara was the weight. It is definitely lighter than my Shiai, and the cut is slimmer too. As a person who likes all things lightweight, this made a significant difference to me. On top of that, the shorts feels silky smooth and downright comfortable to wear.
In terms of  mobility, the Chikara features a stretch panel runs as a continuous strip right down the middle of the shorts, much like its older brothers. It also has the side slits for extra range of movement for kicking during stand-up. During training, the shorts performed well during sparring and grappling, the Guardlock material preventing the shorts from shifting around at all.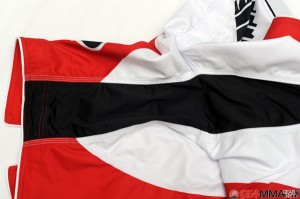 Despite its lighter weight, it does not come at the expense of durability. The shorts is well constructed, with all seams triple-stitched and the split seam area reinforced as well.
The Kusari shirt is also an interesting piece. The design seems made for more general forms of training activities such as running or sports, rather than MMA per se. The fabric weave also reminds me of dri-fit type sportswear, hence the association and my subsequent use of it for running. While it is supposedly anti-rip, it just somehow doesn't feel like the right type of shirt to grapple in. Maybe it's the collar.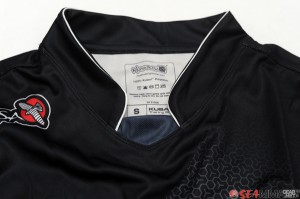 In terms of comfort, the Kusari feels silky smooth on the skin and is a joy to wear. While it does feel slightly heavier than a typical rashguard or dri-fit shirt, it's not a significant difference. One of my initial concerns was whether the collar would get in the way of training and comfort, but it is pretty much unobtrusive – there's no chafing on the neck, and it's soft enough not to make itself noticeable.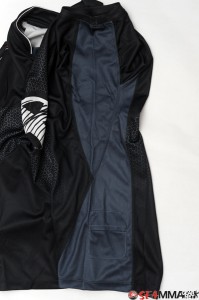 The shirt offers unrestricted movement in both running and sparring that I used it for. However, while it is breathable and does wick away moisture, it will not be as efficient as a rashguard due to the looser fit of the shirt. That said, at no point did I feel warm or overheated. There's also a mouthguard pocket on the bottom left of the side panel for those who need it.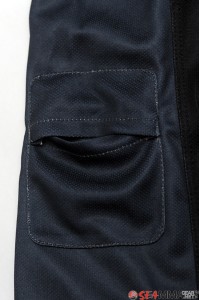 Construction is solid and tough as claimed. While I have not subjected it to the rigours of no-gi grappling, the material is definitely not going to tear or deform easily from just regular grabbing or pulling. The thread feels similar to their rashguard material, and I'd expect similar durability as well.
Affordability
The Hayabusa Chikara Performance Shorts costs USD $69.99 (SGD $88) while the Kusari Training Shirt costs USD $59.95 (SGD $75)  from Budovideos. The shorts are pricier than most other fight shorts in the market by a bit, but the USD $5-10 difference might be worth it given the great tightening system alone. Having no similar benchmark for the Kusari Shirt though, it boils down to how much you're willing to fork out for a general purpose exercise shirt.
Conclusion
The Chikara shorts is a great update to Hayabusa's fight shorts and is definitely a must-have if you have the budget. For those who want something a  little more muted, the Kanpeki line of fight shorts is based off the Chikara's updates as well. The Kusari shirt is an interesting product, but might not be everyone's cup of tea.
Disclaimer
All comments in the review are my own personal opinion. Prices provided in brackets are merely for reference and are based on exchange rates at the time of writing.
If you like this review and found it helpful, please post a comment or let the company or retailer know too. Should you decide to purchase them online, you might want to consult the online buying guide for advice.