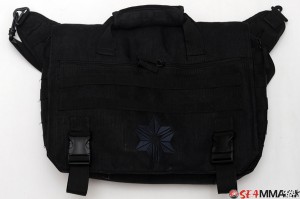 Introduction
Following our recent review of the Datsusara LGB comes the CEB! Short for Covert Emissary Bag, this is Datsusara's take on what a messenger bag should be like.
Official Specs:
Body made of a durable 100% hemp canvas (Why Hemp)
Size (12x17x6 inches, 30x43x15 cm, big enough to hold a 17" laptop)
Main inside zip compartment with padding (12x17x2.5 inches, 30x43x6.3 cm)
Secondary inside zip compartment (12x17x1.5 inches, 30x43x3.8 cm)
Outside flat zip pockets (7x9 inches, 18x23 cm)
Large inside velcro pocket (7.5x9x1.75 inches, 19x23x4.5 cm)
Small inside velcro pockets (4.5x4x1.5 inches, 11.5x10x4 cm & 3.5x4x1.5 inches, 9x10x4 cm)
Small inside zip pocket (7.5x5.5x1.75 inches, 19x14x4.5 cm)
Middle zip pocket (6x6x2 inches, 15x16x5 cm)
MOLLE compatible webbing on front and sides
Neoprene handle and detachable, adjustable over shoulder strap
Outer water resistant coating and water proof lining
Removable inside logo with velcro patch, customizable
YKK® and SMS® self healing zippers
Aesthetics
Like all gear bags in Datsusara style, the CEB is all black.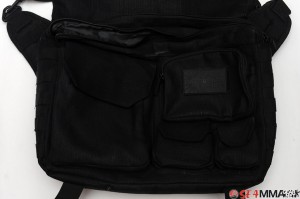 The DS logo is embroidered in black on the front, but little else in terms of branding is visible, making it a subtle looking everyday work bag. That said, the two strips of MOLLE webbing on the front kinda hints that the bag is more than just a regular messenger bag. Covert, indeed.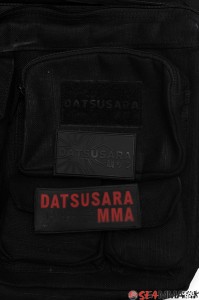 Like the rest of the bags in the family, the CEB has the usual Datsusara velcro patch. However, it's covered by the front flap and is located on the zip pocket beneath the flap. It also has an odd velcro strip at the back of the bag that would normally be hidden from view, and oddly, two strips of MOLLE webbing, which I suspect are more aesthetic rather than functional.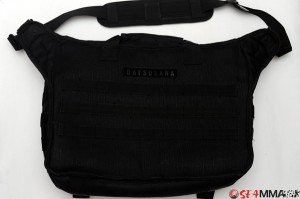 Overall, a simple but tough looking messenger bag.
Form & Fit
The CEB falls into an odd size from what I'm normally used to. It's larger and taller than the regular laptop bag and takes a slightly more squarish form factor than other messenger bags that I've used. At the same time, it remains rather flat. It took me awhile to get accustomed to the size, but I suspect this has much to do with individual preferences and size.
The bag has a removable shoulder strap with a removable shoulder pad. Unlike the LGB, the shoulder pad is strapped onto the shoulder strap by velcro, and is able to slide along the strap. While this is good to allow some weight shifting of the bag, the buckle for adjusting the strap length tends to get in the way of the velcro, limiting its movement and providing some uncomfortable moments of adjustment when it gets stuck. For now I've trapped the buckle between two of the velcro straps to limit the shifting.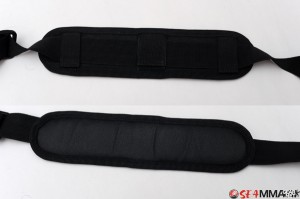 The shoulder pad itself is comfortable enough, and while not as well-padded as the LGB counterpart, it still does a decent job for its lighter load. The plastic hinges mentioned before are also present here, though there's less concern due to the lighter loads the CEB will see in its lifetime. If you prefer, there's a neoprene handle as an alternative option to the strap.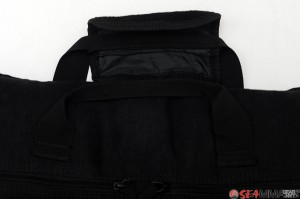 While I did not experience any problems with roughness from the CEB, it would be good all the same to avoid delicate clothing on the first few uses of the bag, and give time for the rough edges to be worn in. The material will usually get softer and smoother with use.
Functionality
The CEB comes across to me as a functional daily use bag first, then a training gear bag second. In fact, more like an emergency training bag for days that you won't or can't carry your usual gear bag.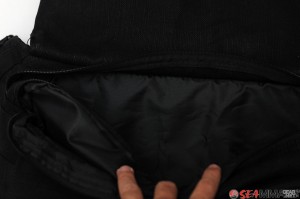 I've used it mostly as a work bag, and it does an awesome job for keeping documents and laptops. The bag size is more than sufficient for fitting A4 documents comfortably, as long as it's supported by a hard backing to prevent creases. I've also fitted a 15 inch laptop into the bag with space to spare for other stuff, and Datsusara mentions that the upper limit is a 17 inch laptop.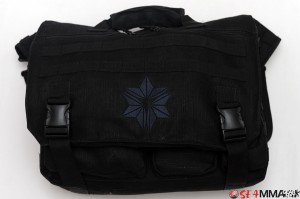 That said, the bag can and will fit training gear should you so desire. It's possible to fit in stand-up gear like gloves and such, or BJJ gear, but not both at the same time. However, I've only used it for carrying BJJ gis as I don't like the feeling of irregular shapes like gloves pressing against my sides when carrying such bags. Even so, fitting a gi can fill up the width of the bag quite a fair bit, making it thick and unwieldy.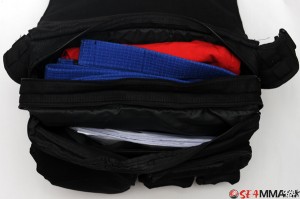 There are two main compartments inside the bag, which is usually where I throw all my stuff into, although on the days that I train BJJ after work, I'd stuff the gi into the back compartment along with all the other necessary training gear and attire, while the documents go into the front. As you can see, it's quite a crowd in there, and a thinner, lightweight gi would help fit things better. In this case, I've used a thicker gi that fattens things up somewhat.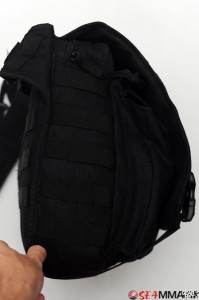 Main compartments aside, the bag has two zip pockets on the front flap, making it great for storing easy access items like earphones and media players. They are fairly sizeable too and can fit the size of one MMA glove or ear guard should you wish to. The inside of the compartment as an additional lining instead of just hemp, allowing some water resistance. In fact, I was thoroughly soaked recently in heavy downpour, but the contents in my CEB remained unscathed.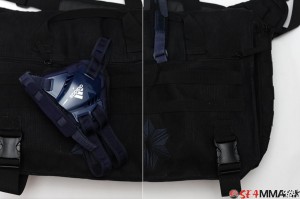 Lifting the flap, there are three more velcro compartments and one zip pocket. The largest velcro compartment fits a pair of MMA gloves nicely, while the other pockets are great for odds and ends like tape, earguards, and mouthguards.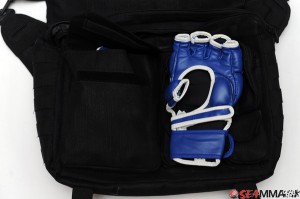 There's no nasty bag included though, reinforcing its purpose as a daily use bag rather than a training gear bag.
Construction of the bag is solid as expected from Datsusara. A few loose threads but nothing that would affect the integrity of the bag.
Affordability
Costing USD $64.95 (SGD $82) a piece on the official DSMMA website without shipping and SGD $110 locally, the CEB might be a little pricey for some, but definitely still affordable when compared to some of the branded equivalents. With Datsusara at least, you can be assured of a durable product that will not fall apart anytime soon, backed by great customer support.
Conclusion
The Datsusara Covert Emissary Bag is another great offering from the brand and provides an alternative as a lifestyle bag instead of just training gear bags. If you get into cat fights at the office often, this will be tough enough to save your life.
Disclaimer
All comments in the review are my own personal opinion. Prices provided in brackets are merely for reference and are based on exchange rates at the time of writing.
If you like this review and found it helpful, please post a comment or let the company or retailer know too. Should you decide to purchase them online, you might want to consult the online buying guide for advice.