Shoyoroll has announced its new Batch #12 gis! Unfortunately, they seem to be set for release in June/July 2012, so there's still a long wait. Here's the lowdown.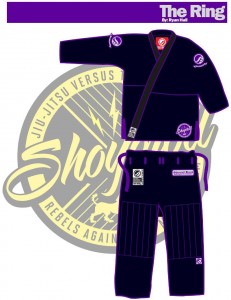 The Ring Specs:
Lightweight PRO Pearl Weave Jacket
Lightweight Poly/Cotton Pants
Color ways of Black with Purple and Grey Trims
SYR's first athlete series release of 2012. They are introducing a Brand New PRO Pearl Weave Fabric along with a new lightweight Poly/Cotton Blend pants that are both light and durable to offer an amazing blend for guard players and competitors.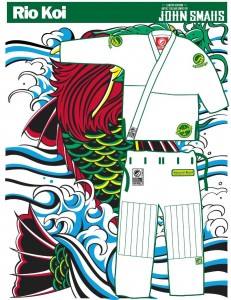 The Rio Koi Specs:
Lightweight Standard Pearl Weave Jacket
10 oz Drill Cotton Pants with Gold Weave Gusset
Color ways of White with Green and Yellow Trims
An artist series release by John Smalls who designed the White Mamba. The designs and color ways are influenced by the birth place of BJJ (Rio De Janiero, BRAZIL) and design pattern blend of a Japanese inspired Koi with a Water Dragon (2012). There will also be pattern art hits in different parts of the kimono.