Kingz is a fairly new brand affiliated to Fighters Market. Since their debut, they have been actively promoting their brand, reaching out to a wide number of bloggers for reviews as well. Currently, they have launched three models, the Rip Stop, the Light, and the Comp. I have chosen to review the Rip Stop and Light models, as the Comp seems to be using a Rip Stop model's cotton twill pants and a heavier version of Light's pearl weave jacket.
Official Specs:
Lightweight
Preshrunk for an ideal fit
Triple reinforced stitching across all stress points
Quick dry and fully breathable
Made of one piece fabric for superior strength and durability
Synthetic heat resistant lapel insert, a single piece of vulcanized rubber inside the collar that keeps the gi light, dry faster and keep your lapel fungus an bacteria free
Stretch inseam panel for maximized leg and hip mobility
11oz Twill Cotton pants for extended durability
Double reinforced knee padding, triple stitched with over lapped seam
6 Drawstrong Loops
Aesthetics
The Kingz gis generally sport a clean cut, having no chest and back patches for school and custom patches. They do have shoulder patches however, which help to prevent the gi from becoming too boring. The shoulder patches seem to go under the collar though and will not be so easily removable.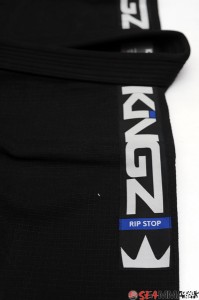 The gi also has a small roundish patch on the bottom left of the gi which states the weight and model of the gi, as well as a colour code of sorts. Actually, this is reflected in the shoulder patches too, and blue is for the Rip Stop, red for Light, and yellow for Comp. A nice touch in my opinion, as it is really easy to identify which gi you're pulling from your stack if you own say, more than one model of Kingz in the same colour.
The bottom of the skirt features a taping with the Kingz word logo running across, and this is also found on the inside cuffs for the arms. The pants is also decidedly plain, featuring the same round patch on the gi jacket.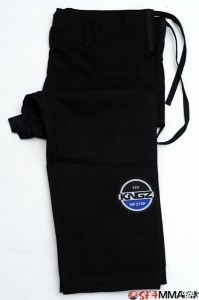 While I have the black model, the gi supposedly comes in white, blue and black options, although the website currently only shows blue and black. Colour remains strong with no noticeable fading after several cold washes and hang drying.
Form & Fit
Based on Kingz's size chart, my weight of 63kg and height of 169cm lands me right in the middle of the A1 range. One of the rare moments both my height and weight fit in the middle spectrum. They also run from A0 to A5, accommodating for large range of sizes. The chart is reproduced below, with metric conversions from me.
Out of the bag, the gi was slightly longer than I would have preferred on the sleeves and pants, while the skirt length was noticeably longer than what I was used to. Everything else was about right. After cold washing, there was minimal shrinkage, but the gi fit comfortably well. Photos post-wash below.
Here's the pre and post wash shrinkage from cold washing and hang drying.
Gi length (collar to skirt)
Functionality
Having reviewed the Hayabusa Pro Jiu Jitsu gi previously, the Kingz Rip Stop does share a number of similarities, but also a few features of its own. For one, the Kingz's cotton rip stop jacket feels quite similar to the Hayabusa's, which means that it is light and tough, though a little rough on the skin. Personally, I prefer to wear rashguard under these gis, although they make for a great discomfort to your opponents if your game includes a lot of shoulder-to-chin type control. The jacket breathes well and does not feel hot even with a rashguard under.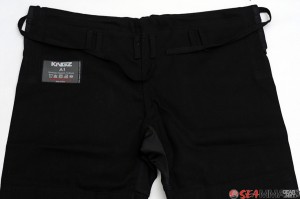 The Kingz's pants is an 11 oz cotton twill though, instead of following the gi jacket's cotton ripstop. For once, I'm actually quite happy with the pants as they feel fairly soft and comfortable without the heat and weight that I've experienced in some of my past cotton twill pants. It comes with a generous 6 loop drawstring, which is always a thumbs up in my books, although I wish it featured a cord drawstring instead of a flat drawstring.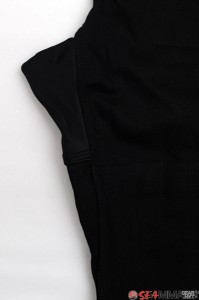 Another interesting feature of the Kingz gi pants is the presence of a crotch panel similar to those found in fight shorts, the Hayabusa gi, and the Sprawl Flex gi pants. In the past, these don't really make a difference to me since my pants were never really in the way of my game. However, this time the pants were a little more snug on me, (could be my butt getting bigger) and the stretch panel performs great without restricting any movement as I'd normally expect from a snug fitting gi pants.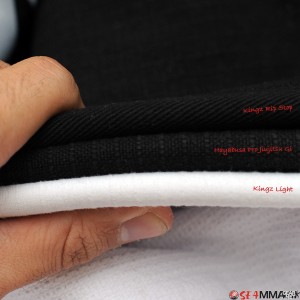 Collar thickness is slightly below that of the Hayabusa gi, but on par with the other Kingz Light.
The typical reinforcements are in place, nothing extraordinary present or missing either. Do note how many rows of stitching they have for the pants cuffs though. Generous. In any case, I don't expect these to fall apart any time soon.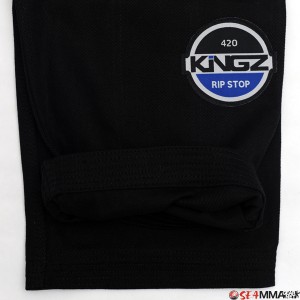 Affordability
Costing USD $144.95 (SGD $187) on Fighters Market for the blue and black variants, the gi is in the slightly above average price range. That said, it is significantly more affordable then the Hayabusa gi as well as being slightly cheaper than a Koral Light which I believe is also cotton rip stop. That's not too bad for the additional stretch panel feature if it is something you think you'll need.
Conclusion
The Kingz Rip Stop is a strong entry to the gi market, offering another quality rip stop option to otherwise limited rip stop gi market.
Disclaimer
All comments in the review are my own personal opinion. Prices provided in brackets are merely for reference and are based on exchange rates at the time of writing.
If you like this review and found it helpful, please post a comment or let the company or retailer know too. Should you decide to purchase them online, you might want to consult the online buying guide for advice.