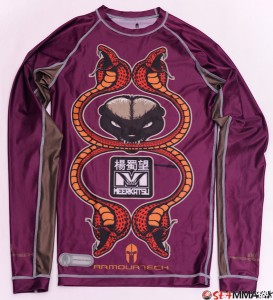 Introduction
The Honey Badger debuts! Meerkatsu of BJJ blogging fame has collaborated with the upcoming Armourtech to release a wild looking rashguard that is sure to delight the flashy tastebuds of all you bling connoisseurs out there. But is it all flash and no bang? We'll find out in the review!
Sidenote: This is a review of the pre-production model, and hence not a final and complete review. The rashguard is currently available for pre-orders till 31st October.
Official Specs:
Exclusive Meerkatsu Honey Badger design
Triple stitched across all stress points
Fully sublimated printing will never crack or peel
Produced longer in the body to stop riding up during training
Made from high quality polyspandex material
Designed to keep you warm in winter and cool in the summer
Available in short and long sleeves
Size from XS to XXL to cater for the ladies and the gorillas.
Aesthetics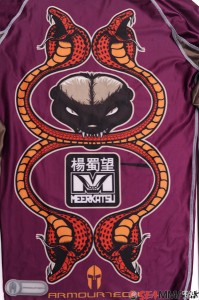 If your sense haven't been assaulted by the photos already, this is one pimped out gi. And it should be, since the Honey Badger Fightwear page calls itself the purveyors of outrageous fightwear and lifestyle apparel.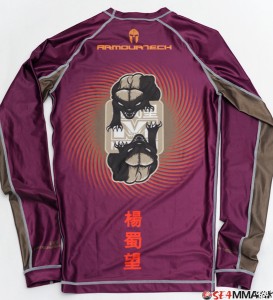 Starting off with a dark, shiny shade of purple, the front and back of the rashguard is plastered with in your face imagery of the brand's mascot, the honey badger. The purple itself is lovely to behold, and photos don't quite do it justice. It also offers a very refreshing alternative to the usual reds, blues, and monotones out there. Equally delightful for me was the underarm panel that was a bronze sort of colour, again unconventional from what else is out there.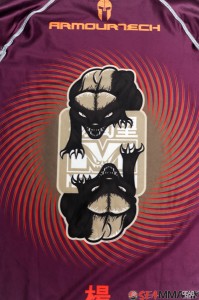 Fortunately or unfortunately, depending on your taste, it doesn't stop there. The badass honey badger across the front takes out four cobras at once, spanning the entire front of the rashguard with literally in-your-face artwork. The back features the honey badger snarling (or grinning, whatever your artistic interpretations are) its way towards you. With the exception of the sleeves, not one bit of real estate is spared, as any remaining space is filled with branding logos.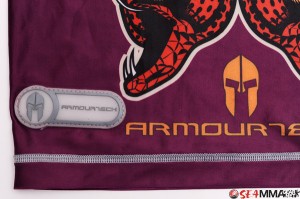 There is also a rubber tag sewn on with the Armourtech  brand, and more branding logos near the right and left cuffs of the sleeves. To be honest, I find the branding logos a bit too much. Armourtech appears 4 times, mostly in large conspicuous fonts, while Meerkatsu's logo and name appear another 4 times. I feel almost as though I'm wearing a sponsored rashguard or I'm a fighter by the name of Yang Shu Wang, which incidentally are what the Chinese characters read as if you're wondering. That's Meerkatsu's Chinese name. Maybe he could shorten it to just Yang, then I can pretend it's really my name on it since we share the same family name, heh.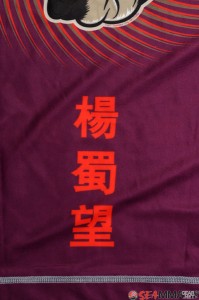 Design comments aside, the printwork on this rashguard is immaculate. There was one stray dot of ink on the inside of the rashguard, but all else is immaculate. You can even see Meerkatsu's sign-off on his artwork at the back of the rashguard. That's a little Easter egg for you eagle-eyed. That goes to show how advance the technology of rashguard printing is these days, I'm surprised more designers haven't already taken advantage of it to come up with more varied designs.
Overall an awesome looking rashguard if you don't mind the excessive branding, and definitely something that will catch a lot of attention, so not for the shy sort.
Form & Fit
The rashguards run from sizes XS to *gasp* XXL, so all your closet fashionistas have a chance to deck out in this. I had assumed that S was the smallest at the time and went for it. Regardless, I fit into the S perfectly fine with my height of 169cm and current weight of 63kg. The rashguard was slightly loose and not as hugging as some of my other rashguards, but there were no loose material around the chest and shoulders area. Depending on your preference for rashguard fit, you might want to size down if you want something more snug. Cutting seems to have just a slight tapering downwards, so it's pretty much a neutral cut.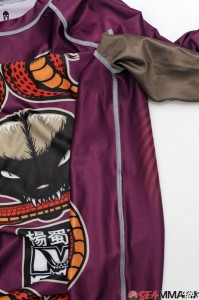 Sleeve length is pretty good on this, with more than enough material to cover the length of my arms. Extra length is not an issue with rashguards since they just bunch up along the wrists and forearm without interfering with the overall feel of the rashguard. Or you could just go for the short sleeve version of the rashguard. The overall length of the rashguard also extends past my hips, reducing the likelihood of it riding up during a roll.
Functionality
The rashguard is thin, light and breathable, remaining cool and comfortable even when worn under the gi.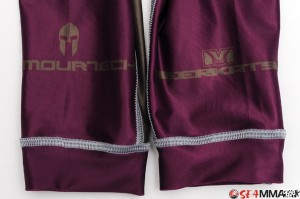 I've only used it for BJJ so far, but it feels good enough to use for no-gi and stand up with no restriction in movement. One thing I like about the rashguard is the 'band' at the cuff of the sleeve, preventing the cuff from rolling up the arm or going past the wrist during intense grappling sessions.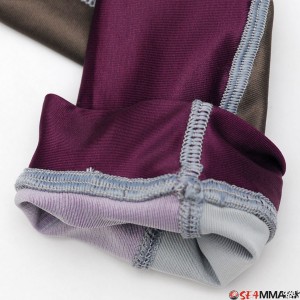 The standard raglan sleeves and flatlock stitching is in place, with good reinforcements and no loose threads. The rashguard uses a 6 panel construction so there shouldn't be any stitching directly under the armpits which might make it uncomfortable for some.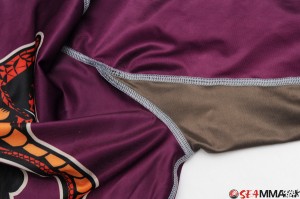 Overall construction looks solid, so this should last a good while.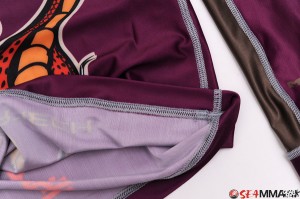 Affordability
The rashguard is available for pre-order till 31st October 2011, and expects to ship sometime early December. It costs GBP 35 (SGD $70) including taxes on Tatami's website for those in the UK and USD $54.95 (SGD 69) on Budovideos for those in the US.
While the price is cheaper for on Tatami after taking out taxes, shipping from Tatami to this region is ridiculously expensive, coming at GBP 45 even for a small item like the rashguard. That amounts to more than the cost of the rashguard itself. Shipping from Budo isn't that great either, at half the price of the rashguard, so a shipping agent will be your best bet.
Conclusion
The Honey Badger rashguard is an awesome looking rashguard that's a must-have if you like loud colours and eye-popping designs. If nothing else, you can always frame it up and tell your grandkids this is how pops' martial arts fashion looked like 'back in the days'.
In all seriousness, the rashguard is functionally good and the design is just the icing on the cake, though a very thick and fancy icing at that.
Disclaimer
All comments in the review are my own personal opinion. Prices provided in brackets are merely for reference and are based on exchange rates at the time of writing.
If you like this review and found it helpful, please post a comment or let the company or retailer know too. Should you decide to purchase them online, you might want to consult the online buying guide for advice.