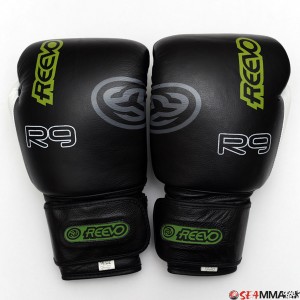 Introduction
Based in Canada, Reevo produces a wide variety of MMA and BJJ gear. Having previously reviewed their BJJ gi, now I've finally put their R9 War Hammers to the test!
Official Specs:
Highest quality beautifully grained premium leather
Pliable padding gives great flex and support
3 layers of foam padding offer multiple types of energy dissipation to keep your hands safe and secure
Large double strapping system offers superior wrist support
Venting cools your hands
Smooth polyester lining allows your wrapped hands to easily get in and out of hand cavity.
Attached thumb
Available in 14 or 16 oz
Aesthetics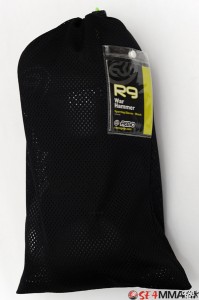 If one thing can be said about Reevo, they sure know how to package their products! The gloves come in a nice netted bag which makes it really handy to carry the gloves around. It probably doesn't cost much, but I appreciate little touches like these that companies do to make life easier for customers.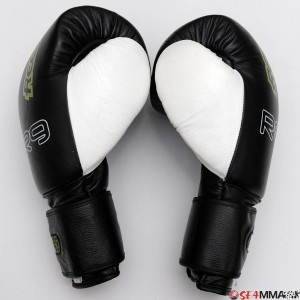 The gloves itself looks pretty good too, coming in a black and a white variant. The black one pictured here features a black base and white thumb, accented by the green Reevo logo printed on the glove. The word R9 is white, while the circular Reevo logo is gray. Since they're printed on, I don't expect them to last forever, but at least there's minimal signs of wear from use so far. There's also a green rubber Reevo logo sewn on at the wrist strap. Overall, eye catching without being gaudy.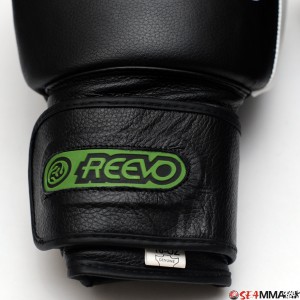 Form & Fit
The gloves come in 14oz and 160z variants, and I have with me the 16oz version. The glove compartment is quite roomy, but still manages to fit my small hands fine without feeling loose. There's enough space for handwraps should I desire a tighter fit.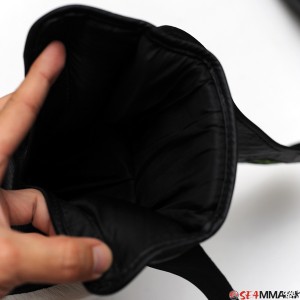 The inner lining itself feels smooth and comfortable, although there was some QC issues with my left glove. The way I understand it, the lining is sewn in a single piece from the wrist to the end of the finger compartment. Somehow, a little too much of the lining was sewn to the end of the finger compartment, causing the lining to become a little 'short' from the wrist to the fingers inside the glove, becoming taut and sliding between my index and middle finger when worn. The right glove is perfectly fine, so I suspect it's just my luck on this and should be a rare occurrence.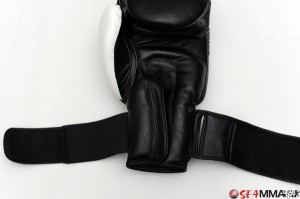 The glove uses a dual strap system similar to many other dual straps out there like the Hayabusa. Dual straps do give a tighter fit around the wrist in general, and it works great on the War Hammers as well. However, it can be a hassle to unstrap both the inner and outer straps to put on and remove the gloves in training, so mostly I keep the inner strap adjusted to a compromised tightness - loose enough to slide the glove out, but tight enough to prevent too much shifting. Fortunately, the inner strap has an elastic that is forgiving enough for this purpose.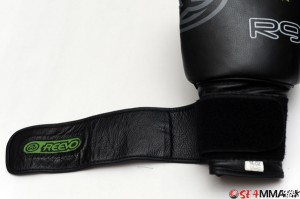 Both leather and foam on the gloves are soft and pliable out of the bag, requiring little to no breaking in period at all.
Functionality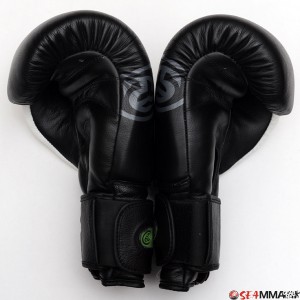 The War Hammers are primarily a pair of sparring gloves, though they do work well in other areas too. As a sparring glove, the foam is soft and springy, providing ample protection for my sparring partner unlike some of the harder bag gloves. It is slightly bigger than my Hayabusa 16oz, but still remains slim enough that I don't feel like I'm covering my face with two large pillows.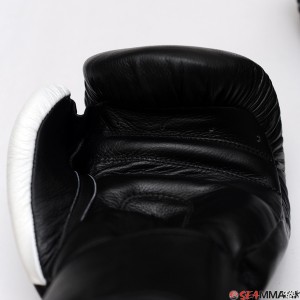 In terms of general performance for padwork and bagwork, the gloves still perform well and absorbs the shock generously when throwing hard punches. There's not much shifting even with handwraps, thanks to the tight wrist strap. There's also a fair bit of padding on the inner wrist and palm area.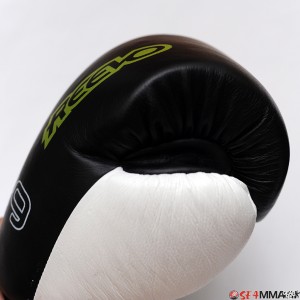 One thing I noticed was that the thumb compartment opens wider from the finger compartment than other gloves I have, making it easier to open the palm and do clinch work if you're training Muay Thai.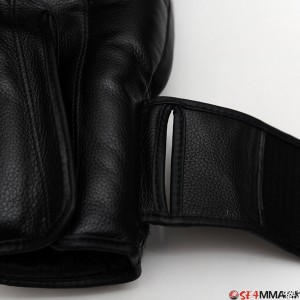 The construction of the glove is generally solid, though I do notice a potential weak point in the dual strap. The way the slit on the outer strap is cut for the inner strap to run through leaves dangerously little material at the edges of the slit. I can't help wondering if over time a strong/violent user of the gloves would eventually cause a tear there.
Affordability
Going for USD $94.99 on the official site and MMA Warehouse, these gloves are priced at the higher end of the spectrum. However, these are sparring gloves and not bag gloves, it's worth considering the investment in something that provides more protection for both your sparring partner and yourself.
Conclusion
If you're looking for a good pair of sparring gloves with great wrist support, the Reevo R9 War Hammers will be right on your money.
Disclaimer
All comments in the review are my own personal opinion. Prices provided in brackets are merely for reference and are based on exchange rates at the time of writing.
If you like this review and found it helpful, please post a comment or let the company or retailer know too. Should you decide to purchase them online, you might want to consult the online buying guide for advice.