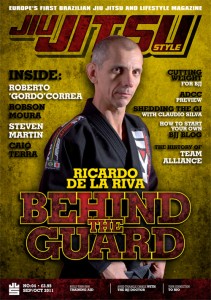 Introduction
Jiu Jitsu Style magazine is bi-monthly publication based in the UK. Previously, I had reviewed a hard copy version of the magazine here, and this time round I'm back with the digital version of JJSM Issue 4!
Online User Experience
Typically, I'm a hardcopy magazine reader, but these days I've started to make the shift towards digital. As such, I was initially hoping for an iPad version of the magazine to review, but some technical issues had me reading the online version from Pocketmagazines first. Unfortunately, the reader seems to be Flash based, and cannot be loaded on the iPad.
With digital and online magazines, part of the experience comes from how the magazine interface is designed, which in turn greatly affects the ease of reading and hence the enjoyability of the magazine. The Pocketmagazine reader while usable, is not the friendliest in my opinion, and still has some issues that can better improved.
For one, the magazine only has two zoom modes. The zoomed out mode allows a clear view of the two page spread, while the zoomed in mode fits the width of one single page into your screen. While it's not really a hassle to zoom in and out, I'd prefer intermediate zoom options to adjust to my preferred width and height, allowing me to read more text at one go instead of being forcefully limited to one zoomed in view.
The way the zoomed in magazine scrolls up and down by just moving the mouse cursor, but only scrolls left and right by clicking the previous/next page buttons is also a little annoying when trying to look at techniques across a page spread, as I want to go back and forth between photos but have to spent a half second or so recalling the navigation options. Things like that should be intuitive and not creep into the conscious mind.
In this case, I'd rather take a PDF file with a reflow option, although that would probably affect the magazine layout significantly.
There's also no quick scroll option to scan through pages quickly from the initial zoomed out view, having to go to yet another 'Show all pages'. Yet another unnecessary hassle for the reader.
That said, those are not JJSM's fault but their service provider's, though I can't help mentioning them since they are an integral part of the user experience. If you're as fussy as me, you might want to stick with the print version, since they do have high quality printed copies as reviewed previously.
Hopefully their iPad version is better, as I've had great joy reading some of the fight magazines that take effort to integrate multimedia interactivity and introduce nice touches to their iPad user interface.
Aesthetics
The photography and layout in JJSM is as beautiful and eye popping as ever, and I appreciate that most of the photos are now great quality and well lit. Some of the drab technique photos I mentioned previously are nowhere to be found in this issue. Though do keep in mind that I'm reading a digital version on a computer, so the colours will tend to display brighter as compared to paper.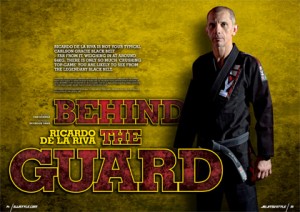 I also love how they layout their larger photos across two page spreads, which suits the digital medium perfectly, since there's no gutter to slice the images up. The de la Riva, Gordo and Caio Terra articles have awesome lead images that appeal greatly to my inner aesthetic freak. Now how about that pull-out poster I suggested the other time? Hahaha.
Content
JJSM is no slouch in the content department, coming with 80+ pages of high quality content on the grappling scene.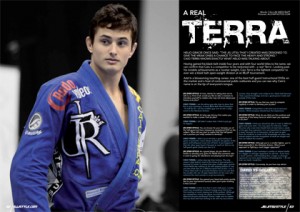 I was particularly thrilled by this issue's interviews since I'm a big half-guard and open guard player, and it was good to see some half-guard techniques featured as well, though JJSM could consider a themed technique segment each issue. Right now, the techniques seem to be chosen at random, without much linking each technique together. It's great to see a no-gi technique segment this time too, providing a variety for no-gi lovers like me.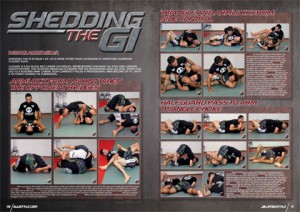 There's also been a marked improvement in ad placement, as they interrupt the flow of reading much less noticeably. However, there is some inconsistent use of sign-offs to indicate the end of the articles. Some feature the JJSM logo, but some don't. In particular, Gordo's article came to an abrupt stop for me as I was expecting more.
One of the segments that can be a great help for guys who who need BJJ advice is the BJJ Doctor segment by Braulio Estima. Most noticeably, it's been beefed up with technique photos relevant to the questions asked! Now that's some great way to answer reader's questions, short of making a video. I'm sure this will be a popular segment for beginners in time to come.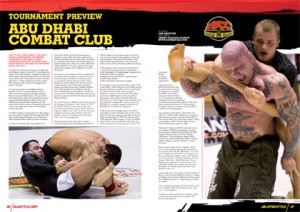 Besides featuring informative segments like the ADCC tournament preview, the magazine also has a nice wrap up with some zany humour from Seymour Yang of Meerkatsu fame on how to write a BJJ Blog. They could have more photo captions though, as I keep wondering who that hulk-like dude is in the photo above.
Overall, the magazine is loaded with enough variety and interesting content to keep you going for some time, and the generous technique segments will have you working on new moves for awhile.
Affordability
The magazine can be bought from the official JJSM website, and costs GBP 3.95 (SGD $8) for the hardcopy or GBP 2.99 (SGD $6) for the digital version - pocketmagazines has the online version, while iTunes has the iPad version. That's a great price for the quality you're getting. Hardcopy annual subscription to this region is a lot pricier though, at GBP 60 (SGD $122) for just six issues (it's a bi-monthly). That's more than double the price of one copy. If you don't mind the shortcomings of online reading, you're better off getting the digital version which can be read on a computer, or the app for iPads.
Conclusion
If you're a BJJ nut, JJSM is definitely worth adding to your reading lists. The magazine has definitely seen some improvement since the last issue reviewed, and will only get better and better.