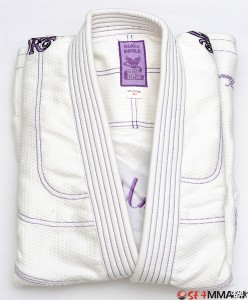 The Raptor has arrived at long last! Black Eagle's latest gi offering is a limited edition model that comes with a rashguard lining and some awesome details. This is a pre-production model, meaning that there will be some changes made to the final product, but it's already looking great.
A few quick comments on first impression – the rashguard lining makes a significant comfort difference, and I really mean significant. I feel like I'm wearing a silk jacket instead! If your body type is like mine, this is PERFECT fit. It's slightly longer on the sleeves than the Predator reviewed earlier, which had its sleeves slightly short for me. There's also a mix and match option of gi jacket and pants for those in between sizes.
If this gi blows you away just as it blew me away, you can pre-order them here at Black Eagle's site. Click through the link to see more photos of the other colours courtesy of Meerkatsu.
A more thorough preview/review will follow after some rolling, but in the meantime, enjoy the photos.