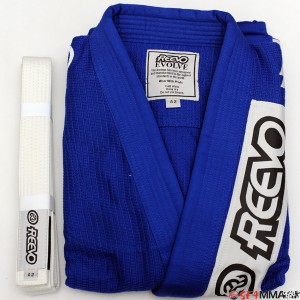 Introduction
Reevo is a Canadian brand that produces a wide variety of MMA gear. Having heard some good things about its R9 series gear, I finally had the chance to test out some of their equipment, including their Oma Plata BJJ Gi.
Official Specs
Designed for optimal performance on the mat
550gm medium weight with lean cut
Heavier collar is supple and comfortable
Covered seams for added comfort and strength
Custom embroidered logos on shoulders, skirt, collar and pants
Gold weave
Pre-shrunk
Aesthetics
Unlike most other gis, the Oma Plata comes in a duffel bag made of gi material. I am absolutely delighted by this as it is much more practical and useful than the few other small and flimsy gi bags that I have with thin drawstring straps that make them suitable only for small items. The duffel feels sturdier and is an easy bag to pick up and dump my sparring gear on my non-BJJ days. However, I most likely would not put a wet gi in this, as the material will soak up the sweat, and has to be handwashed in order not to crack the plastic clasps on the sling. The gi also comes with a white belt.
The Oma Plata itself is a simple looking gi, with no fancy embellishments or contrast stitching. The choice of decoration is through a few basic patches and embroidery. The gi top has the Reevo patch down the chest, and is easily removable should you wish to. There's also a Reevo taping at the skirt area. The shoulders have the word Reevo and their logo embroidered on, while the back is completely blank for any team or academy patches.
Pants is just as plain, with only the Reevo patch on the right thigh. Again, this is easily removable, leaving an almost blank gi for those who prefer something under the radar.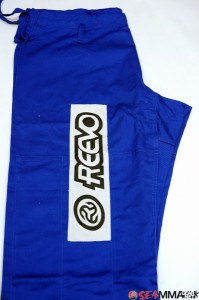 All of Reevo's gis come only in white or royal blue, and the Oma Plata is no different. With the possible updates from IBJJF banning all other colours except white and royal blue from 2012 onwards, these gis will still be competition legal.
As with my coloured gis, no vinegar soaking or any colour preservation techniques were used. Colour remains a deep royal blue after several washes with minimal fading.
Form & Fit
Reevo's gis run from C0 to c2 (children's size) and A1 to A5, with a somewhat different size chart from most of the other gis I've seen.
Given my current weight of 63kg and height of 169cm, I'm actually in the A3 range! Being dangerously close to the bottom of the A3 range and considering I'm usually A1, it only made sense to gamble on an A2 size for best fit. If anything, I am well in the mid range of A2 for weight, so I'd expect maybe the pants and sleeves to be a little short.
Out of the bag though, the gi was slightly long on the sleeves and the pants, which was a little surprising, since I'm actually a little out of the A2 height range. The gi is supposed to be lean cut, but it fits a little loose without being baggy. It is reminiscent of the Fuji cut, but not as snug on the chest. Overall, a decent fit if you're the kind who want a gi that's just right to slightly loose, but not baggy nor snug.
The gi is pre-shrunk, and shrinkage is minimal on the gi, so the fit doesn't change much. Check out the pre and post wash measurements below.
Gi length (collar to skirt)
Functionality
The Oma Plata is a gold weave gi, as are all the Reevo gis if I read the website correctly. At 550gsm, it still feels slightly heavier and thicker than my lightweight pearl weaves. That aside though, the gi is quite comfortable, with the weave making it softer and more pliable compared to my pearl weaves. The notable thing about the gi is how sturdy it feels when worn, definitely made for tough abuse on the mat.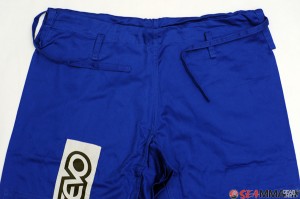 The gi pants is also cotton canvas, great for guys who prefer these over ripstop. The pants has reinforced knee pads that run all the way down to the cuffs and is well constructed. However, it still uses only two loops and a flat drawstring, and I have encountered difficulty struggling to tighten the drawstring at times when it gets stuck in the pants. My preference still runs to at least 4 loops and a rope drawstring.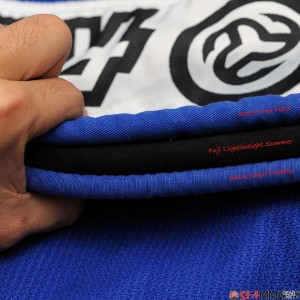 The collar is of decent thickness, thicker than the Predator, but slightly thinner than the Fuji Summerweight. While the collar is fairly pliable, it doesn't have the bouncy foam feel and doesn't change its shape much when gripped, making it harder to hold onto the collar.
Reinforcements are where you'd expect them to be, with extra material across the chest seam that some gis leave uncovered. The gi has held up very well in training and is definitely a tough workhorse.
Affordability
The white gi starts at USD $109 for sizes C2 to A2, while A3 and up costs an additional USD $20 on the official site. The blue gi costs an extra USD $20 on top of that. It is also available from MMA Warehouse for those living in the States.
Considering that it's a slightly heavier gold weave, the price point is pretty affordable especially if you're going for a no frills white gi. However, there's no easy shipping options to this side of the ocean, so you may have to go a roundabout method of sending it to a shipping agent first.
Conclusion
The Reevo Oma Plata is one tough gi that is suitable for heavy use while remaining relatively affordable at the same time. If you like a lean cut workhorse, this is the gi for you.
Disclaimer
All comments in the review are my own personal opinion. Prices provided in brackets are merely for reference and are based on exchange rates at the time of writing.
If you like this review and found it helpful, please post a comment or let the company or retailer know too. Should you decide to purchase them online, you might want to consult the online buying guide for advice.