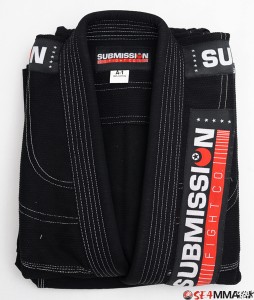 Introduction
Submission Fight Co. is a relatively new brand, having been setup only in 2010, focusing mainly on BJJ gis. One of their goals is to provide top quality BJJ gis at an affordable price. I have one of their newer Submission Light gi on hand, so let's check it out!
Official Specs:
Pearl Weave Fabric Top
Contrast Stitching
Light 100% Rip Stop Pants
Pre-Shrunk
Rip Stop Collar & Lapel
New Logo & Patch Designs
Heavily Reinforced Stress Points
Rope Draw String
Awesome Fit
Aesthetics
The Submission Light gi comes in the three standard colours - white, blue and black, each with its own contrast stitching. For those of you who like a sharp monotone contrast, the black gi does a great job with the white contrast stitching.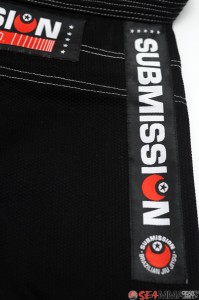 It also comes with one chest patch and two shoulder patches that seem easily removable as well. However, for my gi, the right shoulder patch seems to go under the collar while the left shoulder patch doesn't. It could be just an alignment issue, and I suspect it will still come off fairly easily once the threads on the other sides have been removed.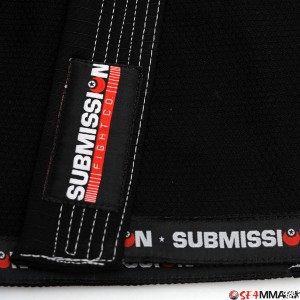 The skirt of the gi features a taping on the outside that says 'Submission', but beyond that the gi jacket is pretty clean and the back is completely empty, making it an easy gi to customise.
The gi pants continues with the white contrast as the main decoration, and the Submission taping running down on either side of the pants. I can't quite decide whether I like it or not, but it's something different from most other gi pants I've seen.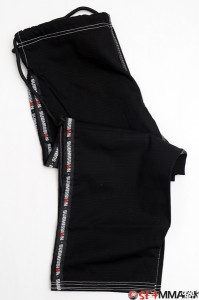 Overall, patches aside, I'd say this gi looks good without being flashy, providing another semi-blank gi for customisation. Colours wise, it's held up pretty well so far, no noticeable fading in cold wash without any vinegar soaks.
Form & Fit
The size chart for the gi below, with metric conversions from me.
The chart is a somewhat similar to the Fuji gi, but has quite a different cut. Looking at the gi, my height of 169cm puts me in the middle of the A2 spectrum, while my weight of 62kg puts me near the tail end of the A1. As usual, I'm somewhere in between sizes and went for an A1 as I rather suffer shorter pants than baggy jackets.
On fitting, the gi pants was a little short, as expected from the size chart. The jacket fit just right around the shoulders and armpits without being baggy, but the sleeves came up a little short too. I suspect A2 will fit me better in the lengths, but will probably be quite baggy given how the A1 isn't exactly snug or hugging on me already. Cutting suggests it might better fit a stockier/broader chested dude.
There was some slight shrinkage from cold washing and hang drying. Check out the pre and post wash measurements below.
Gi length (collar to skirt)
Functionality
The gi top is pearl weave, coming across fairly light when worn. I also noticed that like some of my more recent pearl weave gis, it does not stiffen up as much after washing and remains fairly soft for a pearl weave. The gi itself feels sturdy and withstood the pressures of training well.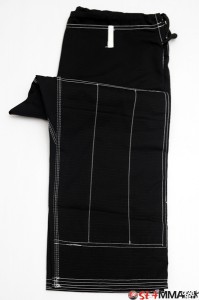 The pants is made from ripstop that feels quite light and thin, making it very comfortable to wear. That said, this is a personal preference since some guys prefer the feel of heavy cotton pants instead. Still, the pants doesn't have the plastic or canvas feel, so it's one of the more comfortable ripstops I have tried.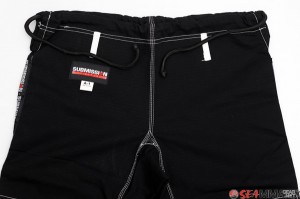 However, it comes with only two belt loops, placed quite far apart from each other. This makes it difficult for me to tie my gi pants tightly the way I usually do, as I prefer the loops closer together, although that is probably just personal preference. Still, it wouldn't hurt to to increase the number of loops to maybe four in the next iteration.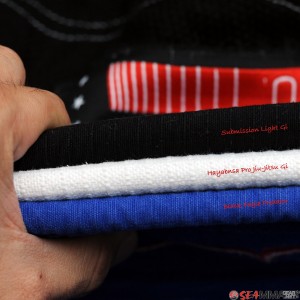 The gi collar is actually quite nice and beefy if you like thick collars. You can see from the photo that it's a fair bit thicker than the Hayabusa and the Predator gis.
Construction of the gi is good with standard reinforcements where you expect them.
Affordability
The gi costs USD $109.95 (SGD $134) for the black gi, going down USD $5 (SGD $6) for the blue, and USD $10 (SGD $12) for the white on the official Submission FC website, making it a very affordable gi. You can also get them from Budovideos or BJJ Sports. The price point is similar to the equally affordable Fuji, providing a competitive alternative while offering a different cut for the stockier guys.
Conclusion
The Submission Light gi is an affordable gi that holds up well against its pricier counterparts. Definitely worth considering if you want a summer gi that looks good with contrast stitching and a wider cut.
Disclaimer
All comments in the review are my own personal opinion. Prices provided in brackets are merely for reference and are based on exchange rates at the time of writing.
If you like this review and found it helpful, please post a comment or let the company or retailer know too. Should you decide to purchase them online, you might want to consult the online buying guide for advice.