I've been wanting to try a Fuji Gi for awhile now, after hearing it being recommended numerous times by other for its quality and affordabiliy Finally, I managed to get my hands on one courtesy of MMAHQ/BJJHQ.
Official specs:
Lightweight pearl weave
Rubber collar is lightweight and keeps the inside of the collar dry
Preshrinking reduces overall shrinkage
Manufactured with comfort and durability in mind
Great for hot weather training and for weighing in at tournaments
Same cut as other Fuji gis
Made from 100% cotton
Includes both jacket and pants (belt not included) and comes with 2 free Fuji patches
Aesthetics
The Fuji summer gi is a plain and simple looking gi, great for those who prefer their gis with little embellishment. There are no patches across the chest, though two optional patches are included should you decide to spice it up a little.
The left shoulder has a small Fuji logo embroidered in red and white, while the right shoulder remains spotless. The back of the gi also has the Fuji logo as the shoulder but remains clean beyond that for any back patches that should tickle your fancy.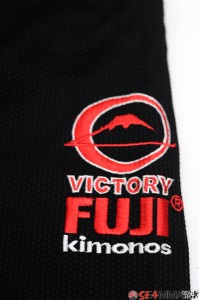 The gi features inside taping with the embroidered word Fuji and the small logo running along it as a subtle design element.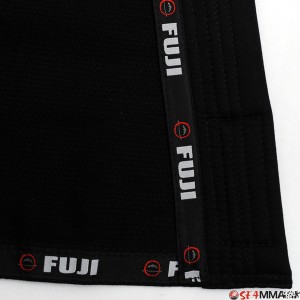 The pants is almost squeaky clean as well, save for the Fuji logo embroidered in white at the back of the bottom right pant leg, as well as the taping on the leg cuff.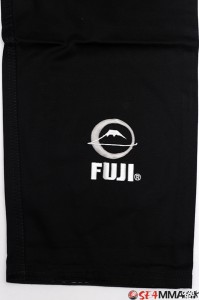 Besides black, the gi is also available in white and blue variants, each with slightly different colours for the logo embroidery.
As usual my gi was not soaked in vinegar or other colour preservation techniques, and the gi has held its colour well with minimal fading.
Form & Fit
I had some difficulty finding the size chart for the gi, but since the description says that the gi has the 'same perfect cut' as their other products, I hope what you see here will be accurate enough.
Looking at the chart, I'm actually right smack in the middle of A2 for height at 169cm, while borderline A1/A2 for weight at 63kg (yes, I grew a little fatter, heh). My default selection was still to go for an A1 and have a snug top with slightly short pants instead of a baggy top with pants that might be just nice or a little long.
Right out of the bag, the gi was a perfect fit. I was surprised to find how snug the gi jacket was compared to all my other gis. This is by far the most snug fitting without being short on the sleeves. If you have a big chest,  this might not be the best choice since it was very hugging on me.
The gi pants was actually fairly long too for the recommended height, as they ended up being just the right length for me. I was hoping the gi wouldn't shrink too much after washing and maintain that same great slim cut.
Fortunately, the shrinkage was minimal, and the gi still fits awesome! Check out the pre and post wash measurements below.
Gi length (collar to skirt)
Functionality
The gi is a pearl weave, though the weight isn't stated, it feels like a 450gsm or 500gsm. While not exactly the softest or lightest in my collection of gis, the material feels pretty tough and durable. Interestingly, it's also not as rough as some of my other pearl weave gis after washing.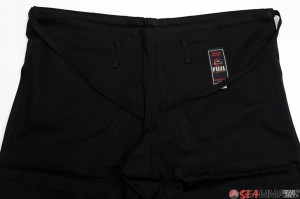 For those who prefer regular cotton pants over ripstop, you'll be pleased to find that the gi pants feels very sturdy and well constructed, while not being too heavy compared to other regular gi pants that I have. The knee padding runs all the way down to the leg cuff as an added layer of reinforcement. Only two loops for this pants though, and flat drawstrings. Not a deal breaker, but it'd be great if they could at least update this.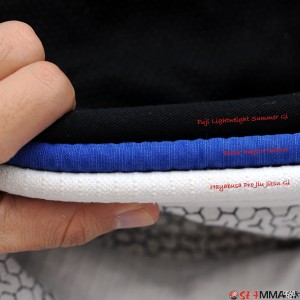 The collar is actually quite beefy and feels solid to the grip. Those who like thick and sturdy collar should be quite happy with this, as it is nowhere as flexible and easily manipulated as some of my other gi collars. From the photo, you can see it's thicker than both the Predator and the Hayabusa gi.
Reinforcements are where you expect them to be, with some extra generous taping on the split seams of the jacket. No signs of wear thus far, and certainly looks tough enough to withstand daily abuse!
Affordability
Priced at USD $109 (SGD $134) for the black and blue variants and USD $99 (SGD $121) for the white one, the Fuji gi comes at a very affordable price range. Considering the quality, this is definitely worth getting if you want a workhorse and don't mind the lack of bling. You can pick one up from Budovideos or save a couple bucks more and get it from Martial Art Supplies.
Conclusion
The Fuji Lightweight Summer gi is a great budget gi that actually delivers more than what you'd expect from that price point. If you're looking for a slim fit gi that's affordable, this may well be it.
Disclaimer
All comments in the review are my own personal opinion. Prices provided in brackets are merely for reference and are based on exchange rates at the time of writing.
If you like this review and found it helpful, please post a comment or let the company or retailer know too. Should you decide to purchase them online, you might want to consult the online buying guide for advice.