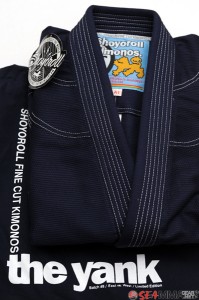 Introduction
If there's such thing as a collectible gi brand, it's Shoyoroll. Into their 8th batch now, with the 10th batch coming up for preorders soon, this is one of the rare brands that increase in value after purchase, even with a used gi. To time it with their upcoming Batch #10 preorder, we're reviewing both Batch #8 gis so you can have an idea of what you might be getting yourself into.
For those of you eBayers reading this, please don't use my photos and crop off my watermark to pass it off as your own. Unless of course, you have a Golden State or Batch #6 to send me in return, heh heh.
Next up is the dark navy blue Yank!
Official Specs:
Lightweight 450g pearl weave fabric
One piece jacket with no back seam
Custom IPOD/ID pocket
EVA Foam Collar
12oz Ripstop cotton Pants w/Gold Weave Gusset
Stretchy Rope Drawstring
6 Point loop system
Contrasting color stitch
Heavy Reinforced Seams
Tailored Fit
Custom art woven inner taping
Comes with a limited edition gi bag
Aesthetics
The Yank is part of Shoyoroll's East vs West theme for Batch #8 and comes in a dark navy blue and white contrast stitching. The colour is really dark and deep, more so than some of the other navy blue gis that I've seen out there. It helps the white contrast threads to really stand out and make the gi pop. Great way to make an otherwise simple design look good. For those who want to try out a Shoyoroll minus the flashier designs, the Yank will appeal to you.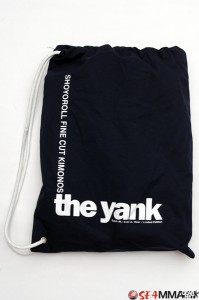 The gi comes with a gi bag made of ripstop material with 'The Yank' printed on it. Nothing special about this gi bag, but it's slightly thicker than the White Mamba's, and can be a good under the radar bag if you need something to carry around. Thanks to new IBJJF rules banning pockets inside the gi jacket, the gi now comes with a detached ID pocket for those who are not competing to stitch it on themselves. The Yank's pocket is rather plain though, with no designs or printing on it.
In similar styling to recent Shoyorolls, there is no chest patch and the front is devoid of any design except for a Shoyoroll logo patch on the bottom left. The back is also empty for you to customise with your own patches. With some of the Shoyoroll patches, you might want to check if they're properly stitched on. Mine had the threads run past the patch, missing it in a few places that require some additional sewing from me.
The shoulders feature the customary Shoyoroll embroidery that says  Jiu-jitsu on the right and Kimonos on the left.
With the Yank, the design is a lot simpler with no fancy artwork to go with. Instead, there's a red orange green rasta taping that looks surprisingly good against the navy blue backdrop.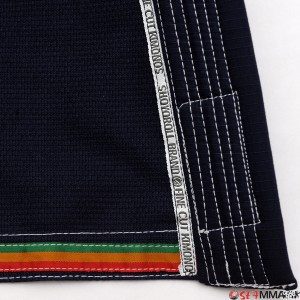 The pants continues with the same contrast stitching, and features a longer Shoyoroll word patch on the top left of the pants, as well as a small Shoyoroll logo on the bottom left below the knee pads. Once again, plain and simple.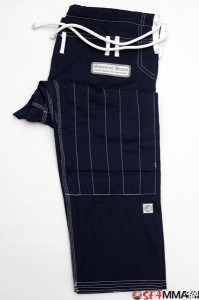 For more photos of the Yank, click here.
Form & Fit
Shoyoroll's size chart spans from A00 to A5, with special A2H and A3s sizes. They apparently run larger than other gis, but I find these to be great for the Asian frames due to the longer and slimmer cut.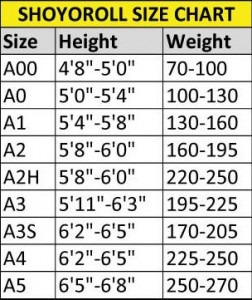 Using my previous experience with the 7th Son, A1 was again the preferred choice. With Shoyoroll, I fall right smack in the middle of the height range but borderline weight for A1, with is usually the other way round for many other sizing charts. This usually means the gi will be of good length but fit a little baggy. Fortunately, Shoyorolls do shrink.
Right out of the bag, the A1 was a little large, but after a few washes it shrank just right. While the fit could be more snug around the chest, the pant and sleeve length are great for an A1. In terms of fit, it's very similar to the White Mamba, the main difference being the longer pant length.
Here's the pre and post wash measurements, all done in cold wash and hung dry.
Gi length (collar to skirt)
Functionality
The Yank's 450gsm pearl weave is similar to the White Mamba, which is lighter and thinner compared to other heavier 500-550gsm counterparts. It feels great to train in something so light and thin that you barely feel it there. The gi does stiffen up a little after washing and drying, but softens up again during training after rolling around in sweat.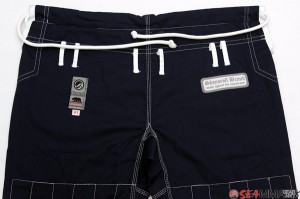 This time round, the ripstop pants is a little heavier at 12oz compared to the Batch #7′s 10oz. However, I'm not really able to feel the difference, and the pants is still as light and thin as ever. One thing I noticed immediately with the Yank's gi pants though, is how soft and smooth they are compared to all the other ripstop pants I have, including the White Mamba. Somehow they've managed to make it feel almost like silk, and I hope they continue this with future batches. Again, the gusset material is ripstop and not gold weave material.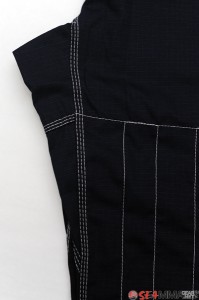 Featuring a 6 point loop system, Shoyoroll is generous when it comes to drawstring loops. It also has stretchy rope drawstring, making it easy to tighten and adjust. The rope's a little long for me and tends to come undone during rough rolls, although that's easily remedied by cutting and burning the ends. Better longer than shorter.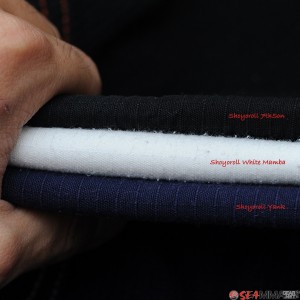 Collar thickness is compared to the 7th Son and the White Mamba here, and you'll notice that the White Mamba is the thickest, although not by much compared to the Yank. That said, I have a feeling that not all Shoyorolls are created equal, and there will be slight variations across the batch, so I'm just going to make guess that the White Mamba and the Yank were intended to be just as thick.
Most of the reinforcements in the gi are where you expect them, although oddly, there's nothing at the armpits. I haven't run into any problems in that area yet, so I'm not sure how big a difference it makes.
The only concern is whether the taping will come loose with time, and I suspect that's a matter of rescue stitching on a regular basis. If you want to maintain the gi, you'll have to check for damages every now and then. The taping on my 7th Son's leg cuff came off at one point and I had to sew it back myself.
Affordability
Shoyoroll gis are not easy to come by. While the Yank already retailed on the pricier side of things at USD $170 (SGD $211) during the preorder period, it goes for roughly USD $300 (SGD $372) on the eBay market. There's also the long wait. Preorder was in end November 2010, but the gi only arrived in end March/early April 2011. That's a 3-4 month gap.
Moreover, Shoyoroll has very limited retailers, although Budovideos does ship to this side of the ocean. Not much choice in the shipping options, but they are very fast, usually taking about 3-5 days to get my parcel over by FedEx.
Factoring all these in, Shoyoroll might not be worth the trouble if you just want a gi for regular use. Fortunately, Shoyoroll is changing its sales policy slightly, and they no longer release a limited by numbers edition. It used to be once 200 or whatever magic number of gis sold out, that was it. Now you have a 2 hour window to grab the gi you want, and as long as you log on during that preorder time slot, it'll be sitting there waiting to eat up your hard earned cash.
Conclusion
The Shoyoroll Yank is looks great without screaming for attention. It's perfect for those who want a piece of Shoyoroll but are not too keen on the bolder designs. However, the availability might just turn the regular guys off. If you're a collector or a fashionista, or simply love the waiting craze, then this is a must-have.
Check out the new Shoyoroll preorders coming up on Friday 20th May, 12-2pm Pacific Time (Saturday 21st May 3am-5am Singapore Time). Do note that these are gold weaves and not pearl weaves.
Disclaimer
All comments in the review are my own personal opinion. Prices provided in brackets are merely for reference and are based on exchange rates at the time of writing.
If you like this review and found it helpful, please post a comment or let the company or retailer know too. Should you decide to purchase them online, you might want to consult the online buying guide for advice.