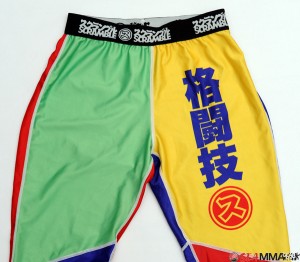 Introduction
If you're even the slightest bit into MMA couture, then you've probably heard of Scramble and seen some of their distinctive designs with the trademark purple and yellow. Their recent release of the rainbow spats has created quite a stir in the community, so check out what the fuss is all about!
Official Specs, Scramble-style:
Warmth and comfort, either worn on their own, under MMA shorts, or under a gi
Protection for your knees when sparring MMA / no gi – even this relatively thin garment can hold off the aches and pains of repeated double legs and kneeling on people's faces
Possible protection against mat-borne diseases – well, there's more to cover your precious skin with, but don't quote us on that, we are not Scientologists
Aesthetics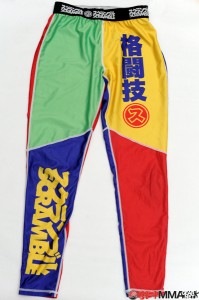 The rainbow spats, like it's namesake is multi-coloured, and in strong bold primary colours too! I suggest you put on a pair of sunglasses when first viewing this live, less they blind you. Definitely not for the shy, but a godsent for the fashion conscious, attention seeking grapplers like me. After all, wearing spats is no longer as eye-catching as it used to be, now we need a splash – no make that splashes of colours to turn heads.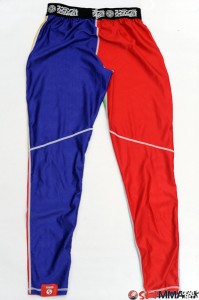 Photos do a better job of showing off the colours than words in this case, but in general there are 4 colours on the front, one for each panel of the spats. For some reason though, Scramble chose only to go with two colours behind. It's a pity, if you ask me, since that's where I want to dazzle my opponent the most when he tries to take my back, and escape while he's still stunned.
I was also hoping that there'd be more intermingling of colours like Aoki's spats which have alternating bands or blending of colours, but I guess that's asking too much since it's only Scramble's first multi-coloured offering. I suspect they'll only improve on the bling value in subsequent iterations, when more people start to embrace their inner flamboyant grappler.
Colours aside, the spats feature the kanji for 'kakutougi' or MMA in Japanese on the yellow panel in front, and the Scramble kanji and word logo on the blue panel in the front. The back is blank to show off your glutes. The colours on these spats hold strongly and remain vibrant after several washes. I love the slight sheen it has, giving it that extra 'oomph'. It makes my other sublimated rashguards like my Manto and Hayabusa look faded in comparison.
Form & Fit
The spats run from S to XL and Scramble provides a size chart for their spats, but in general, spats are made to be super stretchy. They also loosen up a little after washing, so don't worry if it feels a little tight initially. The thing I'd pay a little more attention to is the length of the spats and use that as a sizing guide instead, as they feel a little short compared to other leggings I've used. Fortunately, the measurements are provided in Scramble's size chart.
Being a size 28″ waist, I usually wear an S size, and tried the same for Scramble's. However, at my height of 169cm, I was a little surprised when the spats came up a good three fingers above my ankles when worn. Even though the material is stretchy, it can still ride up the legs a little when grappling, especially if it's already so high. I simply noticed it because my Underarmour, R2C and Eastbay tights all reach past my ankles, and with tights, too long is usually not a problem because the material is hugging, so you just need to spread it out the length of your leg, or let it bunch up above the ankles.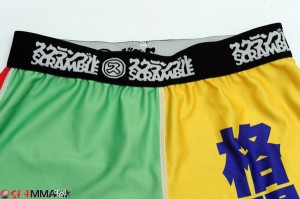 The material did loosen up and stretched a little longer after washing though, reaching a decent length. However, if you want your spats to last a longer time without becoming too loose, wash it in a small laundry bag for delicates, so it doesn't get stretched out during the spin cycle.
Length aside, the spats make a good snug fit. The waistband isn't too tight and suffocating, while the material feels cool and comfortable. Here's some photos of me in it, with a compression shorts and cup under.
Functionality
The spats provide the advertised benefits of keeping you warm and protecting your knees and legs from mat burn. They don't feel restrictive at all to wear, at least for someone like me who's used to wearing spats.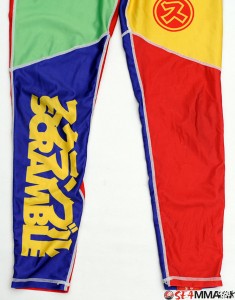 Scramble mentions that these spats have double thick material, and feels slightly thicker than my Underarmours. The material also feels more like my Hayabusa rashguard rather than the Underarmour variety, meaning a less stretchy material that feels more robust and resistant to tears, compared to the UAs which feel like they could rip under intense pull.
As expected from grappling spats, the stitching is flatlock, and double stitched for reinforcement. It's also made of 4 panels for each leg, which I suspect allows better fitting of the material for its compression properties.
Affordability
The Scramble rainbow spats cost GBP 34.99 (SGD $71) on the official Scramble site. It's a little pricey compared to Underarmours, but still reasonable when you look at the asking price for a pair of RVDDWs or Isami spats, which are nowhere as cool as these. If the rainbow spats are too flashy for you, there's also the plain black Scramble spats for GBP 29.99 (SGD $61), which are cheaper too.
Shipping to this side of the continent at the cheapest option costs GBP 4.50 (SGD $9), which is pretty reasonable in my books. You might want to consider the safer option with tracking, though that'll come at a price. Ordering more pieces doesn't scale it by much, so there's no need to get your friends together for this one.
Conclusion
The Scramble Rainbow Spats is sure to get you noticed! If you're rocking the motto 'I'm gonna bling you down!', this is surely the spats for you.
Disclaimer
All comments in the review are my own personal opinion. Prices provided in brackets are merely for reference and are based on exchange rates at the time of writing.
If you like this review and found it helpful, please post a comment or let the company or retailer know too. Should you decide to purchase them online, you might want to consult the online buying guide for advice.