Introduction
Ring to Cage seems to make almost everything you need for MMA training, including grappling tights. Since I wear leggings for BJJ and submission grappling, it was a matter of time I got my hands on one of these to check it out!
Official Specs:
Four-way stretch fabric that provides warmth right down to the ankles
Defense against mat germs and staph infection
Increases traction in the guard
Saves your knees from mat burns
Keeps legs drier and less sweaty/slippery
Unisex size
Aesthetics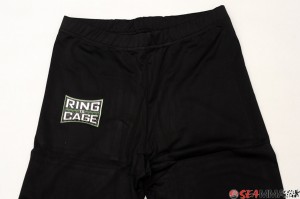 The R2C tights are a simple plain black, great if for those who want to wear leggings without drawing too much attention to yourself. There's just two R2C logos printed on it, one on the right just below the waistband, and one at the bottom left leg. Both logos seem like some kind of heat transfer logo that might peel or crack with time, but so far it's held up well.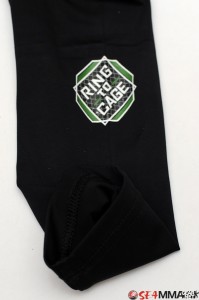 Personally,  I'm a fan of Shinya Aoki, so I'd like greater variety of colours for my tights. But for those who already feel the heat of attention from wearing leggings, black is as good a choice as any.
Form & Fit
Tights or leggings are quite generous in fit from my experience, thanks to how elastic they are. The R2C tights is no different. I went with an S, and while the waistband seems awfully small at 18cm, it stretches to fill my 28″ waist comfortably without any feeling of tightness or suffocation.
The overall fit on my legs is also just nice, snug but not too tight. The polyester material is able to stretch a good deal to accommodate different leg sizes. It does come a little too long for my legs though, but it's not a big deal due to the elastic nature of the tights, as the extra material will sorta bunch up a little at the ankles instead of extending to the heels.
Here are some photos of me in the tights. I'm wearing a pair of compression shorts plus cup underneath for posterity's sake.
Functionality
The tights work well to protect your legs and knees from mat burn, and I hardly notice that it's on me when wearing them. That said, I am used to wearing tights, so it might be a little different for you.
Thickness-wise, they are similar to my Under Armours, although the material feels slightly stretchier. There's no restriction in motion or discomfort from the compression, so they are great for grappling. They're also very breathable. I usually wear them under a pair of shorts, and it doesn't feel like there's an oven going on there.
In terms of construction, flat stitching is used on the seams, and the each leg seems to be made of one panel. My Under Armour used two panels for the legs, while the Eastbay tights have an additional panel at the crotch area. Doesn't make too much of a different for me, but I supposed the additional crotch panel makes things a little looser and more comfortable if you're not  wearing a cup.
Affordability
The tights cost US $34.95 (SGD $44) from the official R2C website. Compared to other more specialised spats, these are actually quite affordable. Hell, they're even US $5 cheaper than the Under Armours I usually wear.
The only problem is getting them to this side of the ocean. You'll probably have to ship them to a US address for consolidation with other items to make it worth your while.
Conclusion
The Ring to Cage grappling tights are pretty decent for their price, and makes an affordable option for those who want to give tights a go. It helps that they're not too eye-catching for guys who feel a bit more shy.
Disclaimer
All comments in the review are my own personal opinion. Prices provided in brackets are merely for reference and are based on exchange rates at the time of writing.
If you like this review and found it helpful, please post a comment or let the company or retailer know too. Should you decide to purchase them online, you might want to consult the online buying guide for advice.