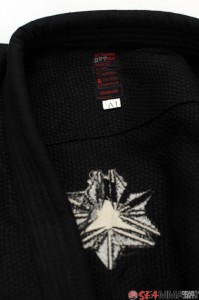 Introduction
Datsusara is known for producing durable and great quality products, and their latest lineup is the Hemp Combat Gi. This is a refreshed and updated version of their original gi line in 2009, and has been long awaited by Datsusara fans.
Official Specs:
Made of durable 100% hemp (Why Hemp?)
Brazilian Jiu Jitsu style weave and cut
Jacket made of a 17oz (580gsm) long fiber weave (very breathable)
Pants made of 11oz (370gsm) long fiber canvas
Reinforced stitching for strength and durability
Machine washable: Due to the properties of the hemp blend the gi actually gets softer and more comfortable with each wash while retaining it's strength, it wears in rather than wearing out
Featuring the Japanese Mon (crest) representing hemp embroidered on the left arm and upper center back
Allow for up to 5% shrinkage with a hot water wash
Aesthetics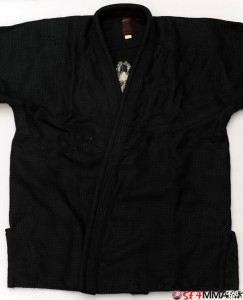 Like most of Datsusara's products, the gi sports a muted black. Patches and embroidery are low-key, great for those who prefer to go under the radar. The gi jacket features the Mon symbol embroidered in black on the left sleeve and the back, and nothing else, not even a lapel patch. The black on black makes it difficult to notice the embroidery from a distance.
The pants is almost as plain, with a little splash of colour coming from the red Datsusara logo patch.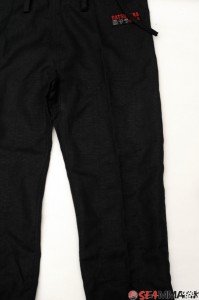 While this is great for those who prefer a silent workhorse, I feel that the gi could do with a little embellishment, perhaps just a touch of colour in gray on the Mon symbols to make them stand out a little.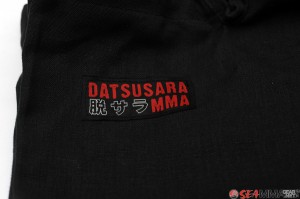 For those who want an alternative colour, the gi also comes in natural (unbleached) white, and the Mon symbol stands out in this version as black on white.
Form & Fit
The gi runs from A1 to A5, although the size chart only sizes up to A4. Looking at the chart, my height of 169cm and 61kg would put me in between sizes A1 and A2 again. Datsusara provides a pretty detailed chart with measurements that I've shamelessly taken and posted below. Based on the measurements, I should be gunning for an A2, but since I don't like to swim in my gis, I decided to size down and make do with slightly shorter pants and sleeves.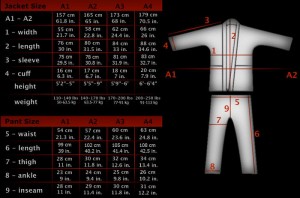 Unfortunately, for me, this is one of the few times I didn't consider my options carefully. The gi isn't pre-shrunk, and I forgot to take into account the amount of shrinkage that might occur even in cold wash. Right out of the bag, the gi was already a little short on the sleeves for me. I was hoping it wouldn't shrink too much after the wash, but no luck there. Something to consider if you're right at the border of sizes. However, length aside, the jacket fit well, not as snug as I'd expected given how short the sleeves were, but wasn't at all baggy either.
Here's the pre and post wash measurements after several cold washes and hang drying. Note the shrinkage in the sleeves.
Gi length (collar to skirt)
Functionality
The gi jacket looks like some sort of comb weave, and feels awesome in terms of comfort. It's soft and flexible, and not too rough on the skin. I haven't had a gi with an embroidered back design in awhile, but I don't feel it on my skin either. The gi is a little on the heavy side though, especially since I'm so used to lightweight pearl and single weaves. Fortunately it's very breathable, so it doesn't get all stuffy inside.
The gi pants features two front loops, which seems a little frugal given how most gis now sport at least 4 if not 6 loops. It also comes with a default flat drawstring, which has started to get choked up on my pants, making it really difficult to tighten. Fortunately, the gi came with a rope  drawstring to swap in. The drawstring also comes a little short, I can barely make my second knot when tying my pants, although this can easily be fixed with your own cord.
The collar is of good thickness, thicker than the Hayabusa and Storm seen below.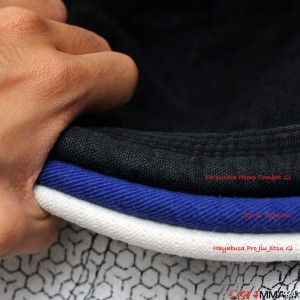 The reinforcements on this gi are solid, with the jacket split seams padded with a large swathe of material, while the seams on the inside of the jacket are taped as well, running from the armpit reinforcement to the sleeve cuff and the collar. As expected from a Datsusara product, this is built to withstand abuse.
That said, while the gi is well designed, there are some quality control issues that Datsusara has also acknowledged. Right out of the bag, there are loose threads that have to be cut, and the jacket has a lot of fuzz coming out of it that rubs onto training partners and my own rashguard or skin when rolling. The shedding reduces after 5-6 washes, but still has a little fuzz here and there. In my gi, the shoulder reinforcement is also patched on in a slanted manner, having more material on the right side at the back and the left side on the front.
None of these has really affected the usability of the gi, but those looking for a perfect product might be a little disappointed by the current iteration. Datsusara is working to settle the quality issues in subsequent batches, so hopefully this will not be a problem in the future.
Affordability
Coming in at US $139.95 (SGD $175) on the official website, the Hemp Combat Gi falls nicely into the mid-tier price range of gis. This is pretty decent fare for a heavy duty gi that's durable and well-built, while sporting a unique hemp material at the same time. Just be wary of shipping prices for this side of the ocean. The gi is not all that light, and will increase the shipping cost too.
Conclusion
The Datsusara HCG-02 is a great gi if you can look past the current quality defects, which seem mostly cosmetic in nature. If you're looking for something heavy duty yet breathable, this is it.
Disclaimer
All comments in the review are my own personal opinion. Prices provided in brackets are merely for reference and are based on exchange rates at the time of writing.
If you like this review and found it helpful, please post a comment or let the company or retailer know too. Should you decide to purchase them online, you might want to consult the online buying guide for advice.