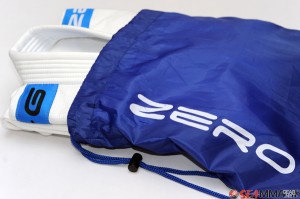 Introduction
Tatami Fightwear is a UK brand that produces affordable a variety of fightwear and affordable gis. Having tested their Estilo Premier gi previously and was pleasantly impressed by it, I was curious to see how their lightweight Zero G would perform as well.
Official Specs:
Made from 420gsm single weave reinforced GI canvas
Rubberised collar to stop moisture absorbtion during training and competition
Single piece jacket for reinforced strength, durability and comfort
8oz heavy cotton stitching on ALL areas of the jacket and pants
Tapered fit for maximum competitve advantage
8oz double reinforced drill pants
Tatami Fightwear brand patches strategically placed on jacket and pants compling to IBJJF GI standards, and adding a fantastic look to this range of premier competition BJJ's
Aesthetics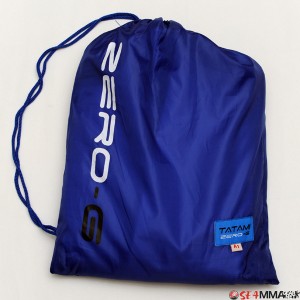 The Zero G sports a basic look, and comes in either black or white. It is also shipped in a blue gi bag made out of some synthetic material.
There are no loud patches across the chest or any contrast stitching, only the two light blue Zero G shoulder patches and the Yin Yang symbol embroidered on the shoulder. The back is clean except for the Tatami Fightwear patch across the bottom of the gi, making it easy to personalise with your own patches or gym logos.
The gi pants are equally plain, with the Yin Yang symbol on the bottom right pant leg, and the Zero G patch on either side of the pants. Personally,  I feel it could do without the patches since they don't really add to the design, plus I'm not a fan of light blue on white, haha. While the patches on the pants should be easily removable, the shoulder patches seem to go under the collar and may not come off as easily.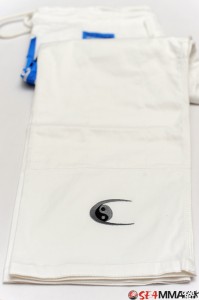 The white does pick up dust, lint and dirt though, so after a few rolls, it won't be the nice pristine white it once was, unfortunately.
Form & Fit
Tatami provides a size chart of their own, with gi measurements from A1 to A3, while you're left to estimate based on height and weight for A4 & A5. Here's a quick reproduction of the chart.
As usual, it's A1 for me, my weight falling right in the middle at 61kg, although my height of 169cm seems in between sizes. Despite that, the fit is great, with the top fitting snugly and the pants just right in length. For those who are in between sizes, Tatami offers a mix and match option for a better fit. Although it doesn't seem to be accessible off the website for the Zero G at the moment, Tatami has previously mentioned that this option is available for Zero G as well, so you might want to try emailing them in the interim.
The Tatami cut fits my body type well, being a slightly leaner built, and it doesn't end up with an overly baggy top or a pants that's too short. The gi does shrink somewhat after cold washing, but the fit is still great.
Here are some pre and post wash measurements.
Gi length (collar to skirt)
Functionality
The Zero G is a single weave, and feels really soft and light the first time I put it on. I'm especially delighted by the 8 oz pants which feels thin but not flimsy, and is nowhere as warm as the Estilo's thicker 14oz pants, making it very comfortable indeed. However, durability might be an issue with this in the long term, although it's held up well so far in training.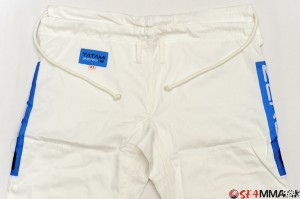 The pants comes with two front loops and a rope drawstring. While the drawstring is thick and easy to tighten, it might be good for Tatami to consider adding more loops in future iterations.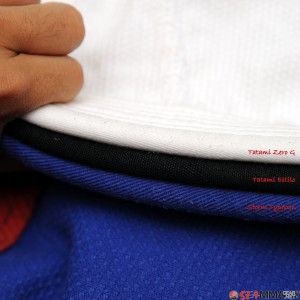 The gi features a rubberised collar, giving it more shape and a bit of stiffness. Here's a comparison of the collar thickness to it's Estilo sibling and the Storm Typhoon. All three are of similar thickness.
All the necessary reinforcements are in place, with no signs of wear during the rolling sessions so far.
Affordability
The gi costs GBP 68 (SGD $140) for the white version, and another GBP 5 more for the black version, without shipping costs included. That's a pretty affordable price if shipping was not a factor. You could also get in the US from Budovideos.
Lucky for us, Tatami gis are now available locally here for SGD $140-$150, with shipping being another SGD $10. If you're looking for a cutting that suits the slimmer Asian profile, this might be a good choice for the price.
Take an additional 5% off when you use the SEAMMA5 coupon code on the official Tatami website or when you email the local guys for a gi.
Conclusion
The Zero G is a great lightweight gi, and is excellent for rolling in the warmer regions or summer periods. If you're looking for something affordable and cool to grapple in, this may well be it.
Disclaimer
All comments in the review are my own personal opinion. Prices provided in brackets are merely for reference and are based on exchange rates at the time of writing.
If you like this review and found it helpful, please post a comment or let the company or retailer know too. Should you decide to purchase them online, you might want to consult the online buying guide for advice.