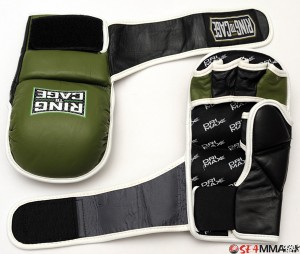 Introduction
Ring to Cage produces a wide variety of MMA equipment, with a distinctive green touch. Just looking at their MMA gloves alone, there's a dizzying amount of options to select from. This time we take a look at their Safety Sparring Gloves for MMA.
Official Specs:
Ideal for MMA training.
Open palms.
Weighs 6 oz.
Thick, 2 inches of advanced protective padding over the knuckles.
Extra wide velcro wrist strap for extra support.
Dual cross directional strap system for ultimate wrist support and striking performance, one strap is elasticated which is covered by second leather strap after.
Made of genuine leather
Aesthetics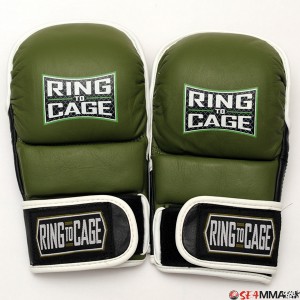 While I have the gloves in the classic R2C green, they also come in a gray and black version. The green gloves have a two-toned design, with an olive green being the main colour and black on the straps and thumb. If you've not had any green coloured gear before, this might take a little while to get used to.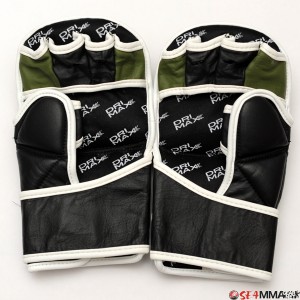 The R2C logo is printed on the back of the glove, while another R2C patch is sewn onto the strap. There's also the words Dri Max printed across the palm lining material. Overall, a simple design that isn't too boring, but won't be attracting excessive attention from gym mates either.
Form & Fit
The gloves come in Regular, Large and X-Large. They were out of Regulars at the time, so I received a Large instead. While I was initially concerned that they would be oversized for me, it still managed to fit fairly well, with just some loose space around the wrist area.
Because of the larger size, these gloves fit comfortably on the fingers and weren't as tight as some of my other smaller sized gloves. It did shift a little during training though, but that stopped after the foam molded to my knuckles. The lining is also textured to provide some traction and reduce shifting.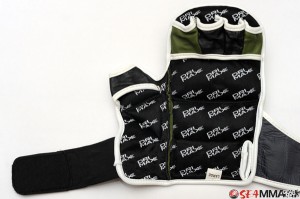 The piping on the fingers and thumb are well done, feeling soft and do not cut into my fingers like some other gloves I've experienced that require a breaking in period. In fact, the leather used to make the glove itself feels great out of the box, and it's pretty easy to form a closed fist with these. They also come pre-curved.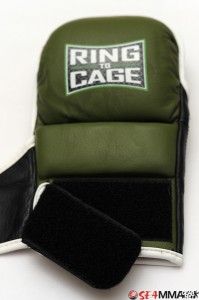 The gloves use a dual strap system similar to the Hayabusa gloves, and is part of the reason why the gloves still sit well on my hands despite the slightly larger fit. The inner strap allows for tighter wrap around the wrist as it's an elastic strap. My only gripe is that it can make it difficult to slip on and off quickly for larger hands. Even with my smaller hands, the outer strap ends just slightly off the velcro patch, which is good as it reduces the risk of excess strap catching onto something during training.
Functionality
On the first glance, the gloves looked pretty thin, despite the padding being a supposed 2 inches. That said, looks can be deceiving, and I was pleasantly surprised how hard I could go on the bags and pads while barely feeling anything on my knuckles. The padding doesn't feel like much, but does an excellent job of protecting my hands.
There's also additional wrist protection with the strip of foam below the main padding, and the thumb strap has a generous bit of padding as well.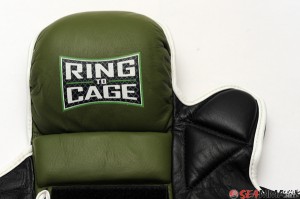 Despite being a pair of sparring gloves, I was a little hesitant to use it initially due to the perceived thinner padding compared to other similar styled gloves I had been using recently. But after going at it for a few light sessions, I was convinced enough to use it for sparring, and it does a pretty decent job of cushioning the blows for my sparring partners.
Upon closer inspection and comparison, the gloves are more evenly padded throughout, rather than bunching the foam at the knuckle region alone, giving the illusion of the slimmer profile.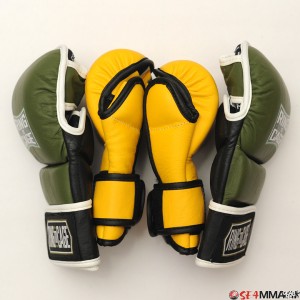 Affordability
The gloves are available on the official website for US $49.95 (SGD $63) without shipping. It's slightly below the average price of similar styled gloves, and is a decent buy. R2C also has a budget model for those who need a more affordable alternative.
Shipping to this region can be a little pricey though, so look out for discounts or promotions and consider using a shipping agent to share the cost with friends.
Conclusion
The R2C Safety Sparring Gloves offer a great quality product that can be used not just for sparring but regular training as well. This might be a pair to consider if you plan to flow between bagwork and pads to sparring in your sessions.
Disclaimer
All comments in the review are my own personal opinion. Prices provided in brackets are merely for reference and are based on exchange rates at the time of writing.
If you like this review and found it helpful, please post a comment or let the company or retailer know too. Should you decide to purchase them online, you might want to consult the online buying guide for advice.