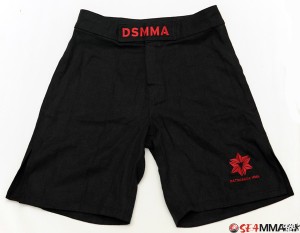 Introduction
Expanding their line from gear bags to MMA fight wear, Datsusara MMA brings the durability and quality of its products to their Hemp Fight Shorts.
Official Specs:
Made of durable 100% hemp canvas (Why Hemp?)
Side split seams (6 inch, 15cm) for unrestricted motion
Velcro closure with drawstring
Reinforced stitching for strength and durability
Hemp canvas provides excellent grip
Machine washable
Featuring the Japanese Mon (crest) representing hemp
The worlds first hemp fight shorts
Made in the USA
Aesthetics
The HFS comes only in signature Datsusara black, accented with touches of red. Unlike the usual black shorts that I have, this one has the slightly faded effect, something like how a black belt would look after a lot of mat time, minus the fraying. This gives the illusion that you've been training forever. Not to say the shorts come across looking old though, just well used and broken into.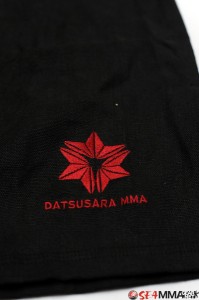 The splash of red comes in two places, the Mon logo with the full Datsusara text logo on the bottom left of the shorts, as well as the shortened DSMMA across the front of the waistband. The threads are a striking red that shimmers a little in the light, making an excellent contrast against the faded black of the shorts. Since the logos and words are embroidered, there's no fear of them coming off anytime soon.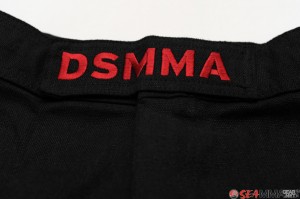 Essentially, this is a pair of simple and understated shorts. Nothing too eye-catching, perfect for the guys who just want to focus on training and putting in the mat time.
Form & Fit
The shorts come in sizes 28-38, another great company who listens to the slimmer 28s like me out there. Unfortunately, I was sent a size 30 by mistake, and had to deal with a less than ideal fit. The waistband is non-elastic, relying on a flat drawstring and velcro strap system, so it's a little less forgiving than elastic type waistbands. The sizing seems quite accurate, so make sure you size properly.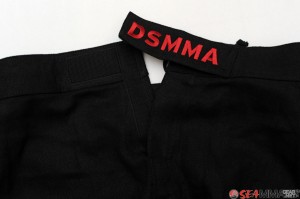 That said, I usually wear 28 or 30 depending on cutting, so I was still able to tighten these well enough by bringing the velcro strap past the velcro patch, something I don't usually do as I dislike having the excess strap sticking out. The drawstring works well to making the final adjustments, so I reckon these will fit like a glove if you've got the right size.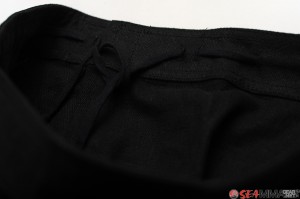 One thing I noted about the drawstring that has happened to a number of my gi pants recently, is that drawstrings that are knotted at the ends tend to have the knots come loose and the strings start to fray everytime you put them in the wash. While it's a minor annoyance, the drawstring for the shorts are thin enough that perhaps DSMMA could consider wrapping a layer of plastic around the ends like some other fight shorts do.
The shorts reach up to my knees, which are a decent length for most guys, though I personally prefer mine a little shorter. That said, it's hemp, and will probably shrink if thrown into a hot wash, so guys who like them shorter might be able to adjust the length just a bit.
Functionality
My initial concern on receiving the shorts was that it might feel a little heavy and soak up sweat during training, further adding to the weight. It is a little heavier than a number of my fight shorts, but it's not really significant and nowhere near the older Sprawl's weight and sweat absorbency.
The shorts get more comfortable with each wash, softening up and developing the familiarity of your favourite pajamas. Ok, that's not a very appropriate imagery, but what I mean is, the shorts get a feel of being worn or broken in, unlike the usual nylon/lycra/microfiber materials that have this smooth, forever new feeling. If you like the feel of cotton-type material against your skin, this is one of the few options on the market that caters to that.
While there are no flex panels, the material is soft and flexible enough to offer a little stretch, so the panels are not really necessary. It does have split seams though, for greater mobility. I've been using these for sparring, and have thrown head kicks with no problems. However, I've not put this through grappling due to the slightly larger fit, so I can't comment on how it'll hold up.
The overall construction of the shorts is great though, no loose threads visible, while the material feels extremely tough. Although it's too early to say whether it'll last in the long run, it sure gives the impression that it might outlast the casual user.
Affordability
The HFS costs US $59.95 (SGD $76) from the official Datsusara MMA website without shipping. The pricing is on average similar to most fight shorts out there, so it comes down to preferences and accessibility. The feel of the material is something you might want to take into consideration.
Shipping to this region costs US $27.95 (SGD $36), which is a little pricey in my opinion, and with such shipments it's always best to share in a group buy, or tag it along when purchasing one of their larger items like their backpacks.
Conclusion
The HFS is a nice addition to the DSMMA family of gear, and provides a different alternative to fight shorts available on the market. It's definitely a workhorse, so pick it up if you like something a little tougher.
Disclaimer
All comments in the review are my own personal opinion. Prices provided in brackets are merely for reference and are based on exchange rates at the time of writing.
If you like this review and found it helpful, please post a comment or let the company or retailer know too. Should you decide to purchase them online, you might want to consult theonline buying guide for advice.