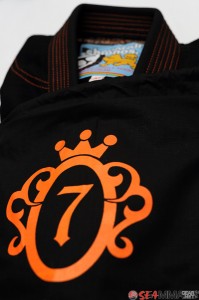 Introduction
The Shoyoroll brand has gained a cult following of sorts with their popular limited edition runs and nice looking gi designs. Is it really worth all the hype and high eBay prices that it fetches? Let's find out with their Shoyoroll 7th Son!
Official Specs:
Lightweight 450g pearl weave fabric
One piece jacket with no back seam
Custom IPOD/ID pocket
EVA Foam Collar
10oz Ripstop cotton Pants w/Gold Weave Gusset
Stretchy Rope Drawstring
6 Point loop system
Contrasting color stitch
Heavy Reinforced Seams
Tailored Fit
Custom art woven inner taping
Comes with a limited edition gi bag
Aesthetics
When it comes to design, Shoyoroll has one of the nicest combinations of contrast stitching around in my opinion. The black and orange contrast stitching simply looks spectacular, making the gi stand out without being too gaudy or bling. It also comes with a gi bag made of ripstop material and a screen printed 7th Son logo that some guys cut out and use as a back patch.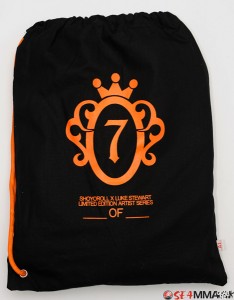 One of the things I like about the Shoyoroll gi is how attractive it looks despite going with a minimal amount of embroidery and patches. Except for the contrast stitching, the front and the back of the gi top are almost devoid of brand patches, flags and etc that usually crowd out the gis. The front features the 7th Son artwork embroidered on the bottom left of the gi while the back is clean for your own gym patches and the like.
The gi top also features the Shoyoroll logo embroidered on the sleeves, with Jiu-Jitsu on the right, and Seventh on the left.
As an added design touch, the inner tapings of the sleeve and leg cuffs, as well as the bottom of the skirt, feature a dragon piece designed by tattoo artist Luke Stewart. There's also the Shoyoroll taping on inside of the seams of the collar. This has started to fade after a few washes, and will eventually disappear, as reported by other users.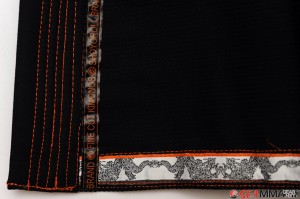 Also, check out the design on the ID pocket!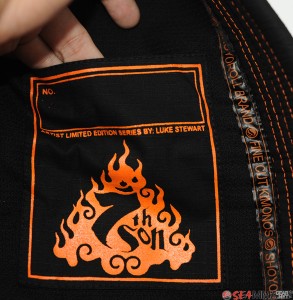 The pants is similarly minimalistic in design, using the constrast stitching as the main design element, and accented with the 7th Son embroidery on the bottom left pant leg.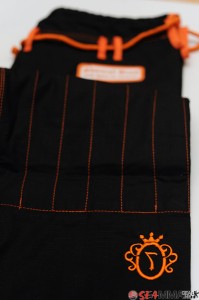 Of all the batches so far, this is one of the coolest looking in my books! Of course, tastes may vary, and Shoyoroll does have some other tamer choices of constrast stitching, although the designs tend to follow the same template with just a few minor changes in logo artwork.
Form & Fit
Shoyoroll has a pretty wide range of sizes from A00 to A5, including in between sizes of A2H and A3S.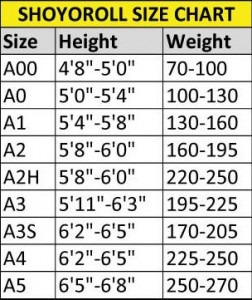 Following the charts, I fall right into the middle of A1 for height (169cm/5'6″) but a borderline A1 for weight (61kg/131lbs). From experience, I was afraid the A1 would be a little baggy, especially after reading initial comments mentioning that Shoyoroll gis tend to run a little larger, but A0 would most definitely be too short for me. So in the end I settled for an A1.
Right out of the bag, the pant leg was perfect for me, but the top ran a little long and baggy. After several washes though, the gi top shrank down comfortably, and actually forms quite a decent fit for me. It was rather fitting under the arms, and wasn't as baggy as I'd expected it to be. Unfortunately, I didn't manage to take the pre-wash measurements, but I'm pretty sure it shrank a couple of cm here and there in my cold washes.
Here are the measurements post wash.
Gi length (collar to skirt)
Functionality
One of the first things I noticed about the Shoyoroll gi was how thin and light it was, compared to my other gis. Being a 450gsm, it is a little lighter than the usual 500-550gsm pearl weaves that I've tried, leading to the initial thought that it might be flimsy as well. Fortunately this was proven wrong in subsequent rolling sessions, as the gi holds up well in training. The gi does have a slight quality of stiffness to it after washing, similar to my other pearl weaves.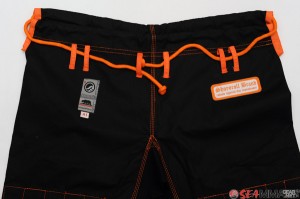 The 10oz ripstop pants can be a love or hate depending on your preferences. Personally, I enjoy wearing lightweight ripstop pants, and this pair rocks my boat. It features a rope drawstring and a 6 point loop system. While the loops are a little skinny, they've held on so far. A nice touch is the choice of a gold weave gusset for greater mobility since it stretches more than ripstop, as well as the reinforced knee paddings that use a gold weave material on the inside instead of just another layer of ripstop.
The collar is slightly thinner than the Storm Typhoon, but slightly thicker than the Tatami Estilo. It's also covered with ripstop material instead of the usual cloth, presumably to make it a little more wear resistant.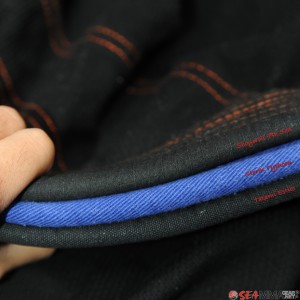 The seams are mostly reinforced in the right places, though I'm a little surprised that there were no reinforcements under the armpits as I've come to expect from almost every other gi I've seen. Cuffs are reinforced by the dragon artwork taping.
Beyond a couple of loose threads, the gi is still looking pretty good. At times I wonder if the taping will come loose, but so far everything is still in place.
Affordability
Shoyoroll gis can range from high end to exorbitant, depending where you get them. Since Shoyorolls are typically only available for a short period of during the pre-order timeslot, they are quickly sold out and offered up on eBay for a much higher price. They are decently priced if you can get your hands on one during the pre-order period.
The 7th Son sold for US$ 169.95 (SGD $216) without shipping during pre-order, which is an acceptable price in my books for a nice looking gi that holds up well during training. However, pre-orders tend to have a 3 month plus wait for the gis to arrive, so bewarned. While there are cheaper and equally good alternatives out there, it comes down to how much extra you're willing to fork out for the design.
If you missed the pre-orders though, eBay prices are generally US$ 200 upwards, hovering around the US $300 range depending on batch. The older batches are more expensive, while the newer ones seem to get progressively cheaper and seem less limited.
Conclusion
The Shoyoroll 7th Son is a sweet looking gi that is a great lightweight gi for regular rolling as well. If you're looking for that nice looking gi that is functional as well, and don't mind waiting to get it, then keep an eye out for the next pre-order.
Disclaimer
All comments in the review are my own personal opinion. Prices provided in brackets are merely for reference and are based on exchange rates at the time of writing.
If you like this review and found it helpful, please post a comment or let the company or retailer know too. Should you decide to purchase them online, you might want to consult the online buying guide for advice.