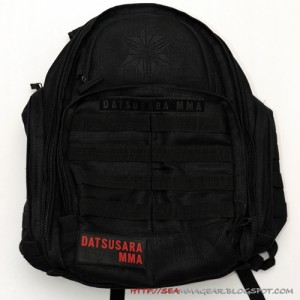 Introduction
Datsusara MMA has gained a reputation of producing excellent and durable gear bags for the MMA community. One of the interesting things about their products is their choice of hemp material. Recently, they released their a smaller version of their backpack, aptly called the Light Battle Pack.
Official Specs:
Body made of heavy duty 100% hemp canvas (Why Hemp?)
Main compartment (17x12x5", 43x30x13cm)
Side pockets for bottles, towels, etc. (13x5x3", 33x13x8cm)
Front pocket with dividers (12"x12"x1", 30x30x3cm)
Upper zip pocket (5.5x8x1", 14x20x3cm)
Inside pocket for laptop (laptop area approx. 12x12", 30x30cm)
Back plate (removeable) retains the pack's form and provides support
Media player compartment with headphone port
Molle compatible webbing on front and sides
YKK® self healing zippers
Back pads
Removable logo with velcro patch, now you can customize your bag
Comes with a large polyester "nasty bag" for wet gear separation
Aesthetics
The LBP comes in black with a military-esque design,  sporting MOLLE compatible webbings on the front and sides of the bag. It also features the Mon logo embroidered in black on the small front pouch on the bag. Subtle, but nice.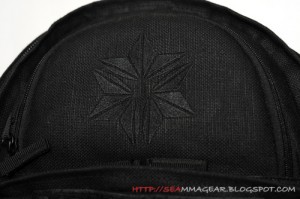 Besides that, the LBP has two velcro patches. The one on the bottom right comes with a rubber Datsusara MMA velcro patch out of the box, but can easily be swapped for your own patches. Personally, I like the red text on the logo, though I hear they are going to switch it back to fully black for later versions of the LBP.
If the splash of colour is not for you, you can remove the patch to reveal the same Datsusara MMA text on the loops. There's also a second strip of velcro patch going across the top of the main front pouch. Again, the words Datsusara MMA can be seen on the loops, and it's an interesting touch compared to the usual vanilla velcro straps.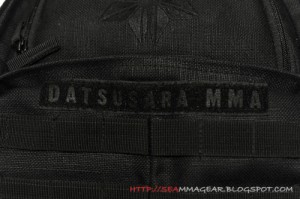 Overall, the LBP is designed to be more functional than eye-catching, and carries an understated but workhorse look. Even at a glance, you'll get the impression that this bag is built to weather and outlast abuse.
Form & Fit
Initially when considering the Datsusara range of bags, I was a little turned off by the size of the BP-02. While I wanted a bag that could carry all my gear and more, I didn't want to drown in it or look like I was going for a road trip each time I hit the gym. That's when I saw the LBP - perfect for my purposes.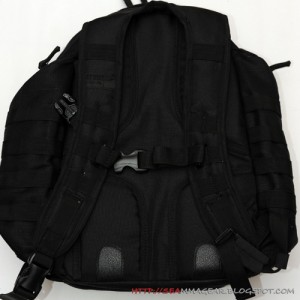 Upon arrival, the LBP proved to be the right size for my frame, perhaps a tad smaller than what I expected. The straps are easily adjustable to find a comfortable fit, and I love the inclusion of foam and padding on the straps and the back of the pack for cushioning and support. Compared to other daily carry backpacks that I use for school and work, this is way more comfortable. So much so that it has defaulted to my go to bag when not need to carry loads of training equipment.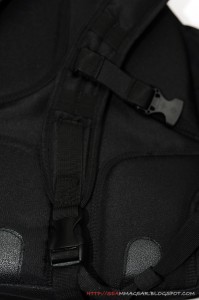 Especially notable for me is the lower back padding on the bag, as it really takes away some of the weight and discomfort when carrying the back for longer periods of time with heavier loads. The little leather patches are a nice touch too. While I'm not sure what exactly they're for, I noticed they helped to provide some traction so that the bag doesn't shift from side to side when walking, which is another great plus for me.
My only gripe is the hemp material can be a little rough around the edges, and it irritates my skin somewhat when the side pouches rub against my arms.
Functionality
The LBP arrived just in time before I made a little trip down south for visiting. It was the perfect opportunity to test it out! I was curious to see if it could fit a week's worth of clothing and essentials (no training gear), as well as my 14" laptop.
After piling all my stuff in one corner, I thought it wouldn't work out as the bag looked a little smaller than my usual travel backpack. But after opening it wide and stuffing my clothes in, I was pleasantly surprised to find that it fit better than expected. A big part of this was being able to open the bag completely and organising the space more efficiently. The bag width could also stretch out a bit more than apparent initially, allowing me to fit my laptop in as well.
During the trip, the straps held sturdy and there were no slipping of the tightening system. I did hear the 'crack' sound of threads snapping/stretching when swinging the bag with a full load onto my shoulders on one occasion, but could not find the source of the sound. Stitching still looks in place even on close inspection, and the bag was durable for the entire trip.
For regular training gear though, the bag size is a little restrictive on the days I do both BJJ and sparring. While I've been able to fit my gi, gloves, shinguards, training clothes and change into the bag, I'd prefer a little extra space for some other non-essentials. As I like to carry magazines around to read, it'd be sweet if the main front pouch was slightly taller to accommodate a magazine size. (I'm one of those freaks who like to keep my magazines in pristine condition, so no folding or rolling.
The other feature on my wishlist would be to see the same expandable centre compartment on the BP-02 on the LBP as well. It's something that would not add much weight or increase the size of the LBP, while allowing it to have a compartment for sweaty gis as I'm not a fan of using the nasty bag provided.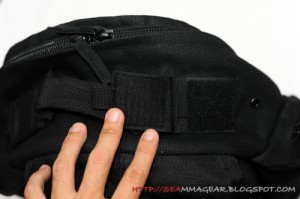 That said, it's a great daily carry bag especially when going for single classes or sessions that don't require much equipment. It's light, and has strong stitching throughout. The main compartment has a bigger and more robust zipper, and there are little attachment loops around the bag to provide some grips for zipping/unzipping the bag, or simply hanging stuff off it. There's also a headphone port for audiophiles, and quite a number of inside compartments.
While the backpack is not waterproof, it's still fairly water resistant. I was caught in heavy rain recently, and had to use the backpack to cover me. Despite that, the contents of the bag where only slightly wet, while the exterior was wet but not soaked. Still, it could do with a rain cover protection for those who might use this for backpacking.
Affordability
The LBP costs US $69.95 (SGD $89) from the official Datsusara MMA website without shipping. Backpacks can vary in costs depending on design and size, so it really depends on what you're looking for. However, the quality here is top-notch, and this backpack may well last you a very long time.
Shipping to this side of the ocean costs approximately US$ 35 (SGD $45), which is half the price of the bag itself. Costs can be somewhat alleviated by buying more than one bag and sharing with friends, as the shipping cost per bag there after is much lower.
Conclusion
The LBP is a great product from Datsusara, and it's only in its first generation. If you're looking for a light, durable, daily carry backpack that can double up for some rougher days, this may be just right for you.
Disclaimer
All comments in the review are my own personal opinion. Prices provided in brackets are merely for reference and are based on exchange rates at the time of writing.
If you like this review and found it helpful, please post a comment or let the company or retailer know too. Should you decide to purchase them online, you might want to consult the online buying guide for advice.